I made it. After years of hard work, dedication, and disappointments, I was on the start line of the Redlands Bicycle Classic — my hometown race and my biggest cycling goal of the last 5 years. But how did I get here? This adventure started when I was a young child and my parents took me downtown every year to participate in the Redlands Classic public kids' races and to watch the pro criteriums. At this age I didn't know anything about elite cycling — I just thought bikes were cool and riding was something fun to do with my Dad. As I got older and started racing mountain bikes in our local NICA high school league I began to see "The Classic" — as we locals call it — as the pinnacle of cycling in the United States. (I know I'm biased and Gila and Joe Martin have just as much claim to the throne.)
In 2014 I met my coach Joy McCulloch and her husband Brian — both were professional road racers at the time, but I was still wasn't considering road racing. With Joy's guidance I maintained a razor focus on mountain biking and achieved my goal of winning the 2015 SoCal League D2 Sophomore championship. However, in 2016 Cyclery USA (my local bike shop) created a team intended to give local junior mountain bikers — including myself —an opportunity to try road racing. We raced all summer in 2016, and I discovered the joys of racing as a team. We learned how to work together in a race and gained the skills to navigate first Cat 5 fields, then Cat 4 fields, which were mostly filled with grown men. Our team director was Zach Thorp, and I can't understate the impact he made in my development as a road racer.
By the end May of 2017, I had finished NICA on a high note, earning 5th place in the Varsity category, and I graduated from high school. But as much fun as racing MTBs is, I was pretty sure the road was my future. That summer I put in for my Cat 3 road upgrade, went to a USA Cycling development camp, and then had the opportunity to race the Junior Tour of Ireland, a prestigious international stage race. I'd never done a stage race before, but I held my own, and that buoyed my confidence and convinced me that road racing was my path.
The next couple of years are not particularly interesting. I had a stage win at Valley of the Sun in 2018 and made it quickly to Cat 2, but once I got there I hit a wall. I had a bad crash in early 2019, and my attempt to rush back from that quickly turned 2019 into a challenging season. However, this time spent struggling as a Cat 2 rider ended up being very important in my development. As it happened, I was coming back from this injury just as Legion of Los Angeles began dominating the local scene. At the time I was frustrated that Legion and their talented riders were taking all of the top placements, which was making my upgrade to Cat 1 difficult. But what was a frustration at the time has become something I'm grateful for, because the high level of competition on the SoCal scene forced me to become a better rider both physically and tactically. And so, when I finally attained my Cat 1 upgrade in January 2020, I hit the ground running and achieved immediate success.
Let's pause for minute. 2020 was supposed to be a big season for me. I was riding for Subaru Santa Monica, a Cat 1-2 elite team that was a top 3 team in the area at the time. Subaru was planning on putting a team into the Redlands Classic, and with my Cat 1 upgrade, I had a spot on the Redlands roster. At just 21 years old I was going to make it to my dream race. But then disaster struck on 3/13/2020 when I got an email saying the Classic had been cancelled due to Covid 19 pandemic.
I was crushed. My first response was to go overboard with my training and numb out my disappointment. At this point I firmly believed the race would be rescheduled for later in 2020. But as the pandemic continued, one year of delay turned into two as the race was cancelled for 2021. At this point my perspective shifted. I no longer felt as though my entire cycling career rested solely on my participation in the Classic. I knew that someday I would make it to the line at Redlands, but for now there was other racing to do.
I raced all summer in 2021, and then in August I transferred to Lindenwood University in St. Charles Missouri to finish my degree and race as part of Lindenwood's Varsity cycling program. By the time spring 2022 rolled around I'd been a Cat 1 for two years and had achieved some solid results both in collegiate and elite racing. I knew I was ready to race at Redlands — the only problem was I didn't have a team to do it on. Coach Joy jumped to my aid and helped me attain a spot on SoCalCycling.com Team, one of California's longest running elite cycling teams. Knowing I had a spot, I doubled down on my training despite the harsh Missouri weather that forced much of my riding indoors.
I can't head into my stage by stage account of the 2022 Redlands Classic without mentioning my mentor and hero, Brian McCulloch. From the time I met Brian, he was always generous with his time, and he taught me as much as my eager young self could absorb. As the years have gone by Brian has became my trusted friend and training buddy. In all honesty, I wouldn't have been prepared to tackle the Classic if not for him. Watching Brian's own trials and tribulations in the Classic made me appreciate just how difficult bike racing on the highest level is. I saw him die a thousand deaths to ensure his teammates could succeed, and learned that behind every great stage win and GC result there is someone like Brian sacrificing their own chances for the good of the team. When Brian crashed out of the Classic in 2016 with a devastating injury, I saw how long and hard he battled to come back to the race the next year. When he had a mechanical issue on the final stage in 2017 and was forced to ride a neutral support bike and still battle to make time cut, he taught me that you can never give up on yourself. Truly, Brian has helped shape me as a bike racer and more importantly as a person, and I can't thank him enough.
One week before the 2022 Redlands Classic began, I flew home from college to put the finishing touches on my preparation. I met my teammates for the first time and learned that we a had rider — Carlos MacPherson — with the potential to finish in a good spot on GC. I went to sleep the night before Stage 1 with two goals: to use my efforts to help Carlos place as high on GC as possible and to ensure I had enough left in the tank to finish the race.
Stage 1: Highland Circuit Race
Heading into my first Classic, I was afraid of the Highland Circuit race. This stage has a challenging 90 second climb every lap followed by a treacherous neighborhood descent with several tight turns and narrow roads. With Highland falling on day one of the race I knew it would be an extra intense version of the race, and just as I expected, the pace was incredible from the onset. On Highland you have to finish 10 of the 20 laps to be eligible to start the next day, and for those first 10 laps I was on my absolute limit. I tried to stay in the front half of the peloton, but wasn't able to do much. My most helpful moment on the stage was to give Carlos a bottle when he needed one. The pace cooled for a few laps between 10 and 5 laps to go, but when the pace ratcheted back up I could feel my legs were on the verge on cramping. Not only was I no longer acclimated to the heat of So Cal, but in the stress and excitement I didn't drink as much as I should have. Coming into the last lap I fell off of the peloton and limped through the final lap losing 3 minutes on the leaders of the day. I wasn't pleased to have cramped, but took an enormous amount of confidence out of stage 1. I had had a safe race, felt good about my technical skills, and knew my legs were ready for the following days. I had conquered my fear of the Highland Circuit race.
Stage 2: Oak Glen Road Race
The Oak Glen Road Race is notable for the 7 mile climb that ends the race. The average gradient is over 7%, and every year several riders fail to conquer the mountain and finish outside of the time limit, prematurely ending their attempts at completing the Redlands Classic. But surprisingly, the Oak Glen stage has never really frightened me. I've spent hours reconning the main race loop and have ridden the finishing climb dozens of times, and I was confident my experience would help me have a successful day out on course.
I had a great start to the stage. I felt comfortable on the climbs and settled into a nice rhythm. With the cramps I experienced on stage 1 in mind, I grabbed bottles from the feed zone every chance I got. Over the four hour race I drank at least 7 bottles, at least half of which were Monster Hydro, which kept my body from repeating the cramps of the day before. On the final lap I saw that Carlos needed someone to keep him at the front of peloton so he would be well positioned into the final climb. I sacrificed myself the whole lap and successfully delivered him onto the climb where he needed to be. When I hit the turn onto the climb I knew my job was done it would take a disaster to fail to make time cut from there. I settled into a solid tempo and enjoyed riding my favorite local climb. A short time later I saw Brian and Joy cheering me on from the side of road and remembered how years ago it was me who would have been doing the cheering. Brian dumped a bottle of water on my head, gave me some encouraging words, and I was off to complete the climb. I finished 9 minutes down on the winner and over 30 minutes inside the time limit.
Stage 3: Cajon Pass Time Trial
Time trials in the middle of a stage race are weird. You've spent the last couple days getting used to the rhythm of the peloton and then you ask your body to go all out for an individual effort on a short course. The most interesting (and stressful) part of my day was making sure my borrowed TT bike was set up according to UCI regulations. It took three trips to the commissaries, which left me short on time for my warm up, but I figured out the set up and learned a valuable lesson that will help me in future stage races. My time trial itself was pretty boring. It was an out and back course that took me 20 minutes and 30 seconds to complete, finishing well within time cut once again.
Stage 4: Downtown Redlands Criterium
In my opinion, Saturday morning is the most important part of the entire Redlands Classic week. Hours before the pro women and men take to the downtown criterium course, hundreds of area kids take part in the public races. My first race on a bicycle was at these public races as a 3 year old. I raced year after year and I fondly remember how the pro riders would line up and pretend to race against the kids. So it was rather surreal when I found myself lining up with several heats of school-aged kids and experiencing the morning from a new vantage point. It felt incredible to give back to my local community and support helping kids get excited about riding bikes.
Later that afternoon it was time for my actual race. The final two stages of the Classic are extra special because both races start and finish in historic downtown Redlands, and an incredible number of local spectators show up to celebrate the race. In addition, the Redlands Classic criterium is a legendary course in American crit racing. With 9 turns including an insane 145 degree turn and three chicanes, the course is very technical and tests each rider's skill level and ability to stay focused. As a spectator watching the 145° turn I always felt like I was standing in the eye of a storm watching riders fly through it at 25+ MPH.
Several years ago I might have been terrified of a crit like this, but over the last year I've gained confidence racing high level crits in the Midwest. As such, I had a safe, uneventful race and finished in the main bunch. The real magic happened as I rode the customary post race cool down lap and saw so many people I knew, all congratulating me, telling me I'd done a great job, and letting me know they were proud of me. That's when it hit me — I truly was achieving something special. Many of the people congratulating me remembered when I was brand new to riding a road bike, and each one of them had at some point helped me to reach this moment, just one stage from achieving my dream.
Stage 5: Sunset Road Race
The Sunset Road Race — the queen stage of the Redlands Classic — is one of the hardest races in all of American bicycle racing. Challenging doesn't begin to describe the Sunset course. The first half of the lap is a stair stepping climb with a key two minute section that the locals aptly call "the Wall", which is then followed by a winding descent with sections where riders hit speeds in excess of 50 MPH. To be honest, I was nervous coming into the day. On Saturday, Brian had told me that just making it through one lap in the lead group would be an accomplishment I could be proud of. But I wasn't prepared for how wonderful the day would turn out to be; I'd go so far to say that this was greatest day I have ever had on a bike so far.
Starting the day I was in a survival mindset. I knew I had to finish 4 of the 12 laps to be counted among the riders who successfully completed the stage, and thus the entire Redlands Classic. But I also knew I wanted to do more than that. On lap 1 I had a great position and managed to suffer my way over the top of the climb with the main peloton. Starting lap 2, the group was greatly diminished in number and at the base of the climb I was able to spot my Mom, who was in a viewing spot where several of my cycling community friends were also watching. This first section of the climb is incredibly steep and requires every ounce of power your body has to stay in contact with the group. As I hit that section each lap I felt their support as a wall of sound cheering and calling my name, and I willed myself to push through the pain. To my surprise I stayed in the main group lap after lap.
At the beginning of the climb on lap 8, I felt my legs start to give out, and knowing
Carlos was in the break
, I rode the rest of climb solo at my own pace. On this lap — without the distractions of riding in the peloton — I heard so many people spread all across the climb calling out my name, and the emotions finally hit me. I was going to complete my first Redlands Classic.
Still riding, I began to catch riders and encouraged them to start rotating. We completed two more laps before being pulled by the officials and told our race was done. Heading into the day I would have proud to have finished 6 laps of the Sunset course, and amazingly, I had completed 10! I understood how great this was for my first Redlands Classic, and even better I realized that sometime in the future I will be capable of finishing all 12 laps and will achieve the ultimate honor the Redlands Classic has to bestow, which is a finish on the downtown circuits.
Our team did exceeding well. Each member rode his best and contributed to the overall success we had. Four of us completed the full stage race, and Carlos finished 11th in the GC. I really couldn't have hope for more than this, to do so well representing my team and my community at my hometown race, the incomparable Redlands Classic!
SoCalCycling.com Team Partners
Thanks to our SoCalCycling.com Team sponsors for their continued support.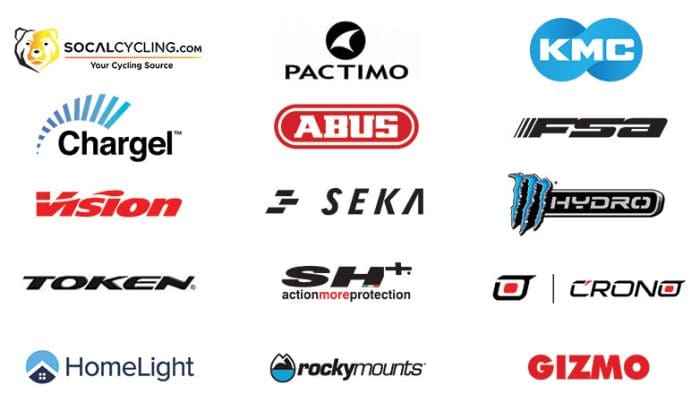 Report By Thomas Fuller, SoCalCycling.com Team
Photos by Christy Nicholson / EchelonDesignPhoto.com
Visit SoCalCycling.com's Event Calendars for upcoming Road Events, Mountain Bike Event & Gravel Grinders and Fun Rides & Gran Fondos throughout the season for great cycling events.
This page contains affiliate links, where we get a commission if you decide to make a purchase through the links(at no cost to you) and helps support the site. As an Amazon Associate, we earn from qualifying purchases.