As part of the 2022 UCI Road World Championships, the Men's Elite Road Race is one of the highly anticipated events set to take place in Wollongong, Australia.
The Championships are one of the highlights on the cycling calendar and continue to attract a number of viewers with each edition that takes place. This year's event will be no different, although for those that are new to the sport of cycling, there is a lot that needs to be taken into account.
In this article, we will give you a rundown of everything you need to know about this premier race and an overview of the 2022 UCI Road World Championships, including a brief history lesson regarding the sporting event.
Men's Elite Road Race: Date and Format
As mentioned, the Men's Elite Road Race is one of the premier races on the calendar of this cycling event, and it is one that many continue to view each year it takes place, and with a scheduled date of September 25, this year will be no different.
The 2022 race will be a little different compared to many of the previous editions, as this one will be held in Australia for just the second time, and the first since 2010 when the Victorian city of Geelong played host back in 2010. In fact, it is only the second time that the race will be held in the Southern Hemisphere, too, with Europe having been a favored destination in the past, such as Flanders in Belgium where the city has hosted six of the nine events held in the country.
Nonetheless, there will be many that will be looking forward to seeing how the riders equip themselves in Wollongong, where they will need to race through the rainforest, as well as along the coastline and past the cliffs that the territory of New South Wales has to offer.
The Men's Elite Road Race will start in Helensburgh, before potentially being challenged to navigate the crosswinds that could appear as they make their way to the inland Mount Keira and city circuit that includes the Mount Pleasant climb. It is a challenging course that will test the very best competitors, with fast straights, sharp climbs, and technical sections all featuring.
Best riders should be able to navigate the tricky course
Naturally, the top riders should be able to conquer this course, although they will need to be at their absolute best. There will be some interest in how they manage to do this, though, with many likely to enhance their overall viewing experiences by placing bets on the action. Punters are now able to access a range of live sport betting markets for the event as it takes place throughout Wollongong, and there will be many that will be watching closely.
We know that French rider Julian Alaphilippe managed to win the last two Elite Men's World Races in a row, but there will be doubts as to whether he can compete after suffering a dislocated shoulder during Stage 11 of the La Vuelta a Espana event last month; nonetheless, there is some optimism from his team in what has been a rotten year for the rider.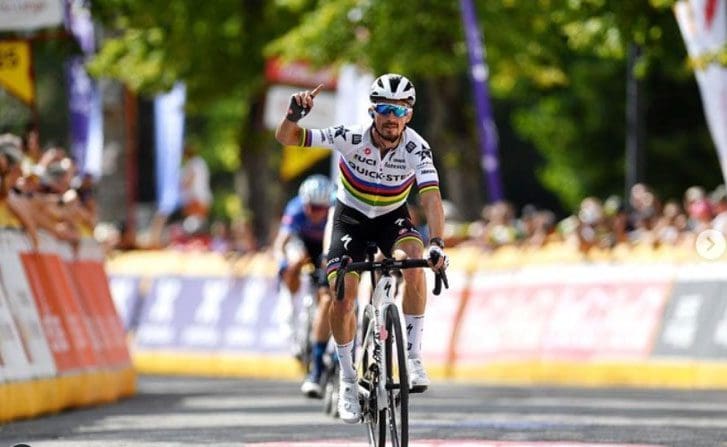 Course details
We have already highlighted how the course that will host the Elite Men's World Race on September 25 is going to be extremely tricky for riders to navigate and successfully complete, but what are some of the finer details?
Well, riders will be required to complete a circuit that is 266.9km in distance and features a total elevation of 3,945 meters. The race will begin in Helensburgh, featuring one lap of the Mount Keira Loop and 12 additional laps of the Wollongong City Circuit before coming to an end in Marine Drive, where we will then see the Rainbow Jersey presented to the winner. The two components should truly test each athlete and see how far they can be pushed while cycling.
2022 UCI Road World Championships background
The Elite Men's World Race is just one of 13 titles available to win at the 95th edition of the UCI Road World Championships this year. This is because this edition will feature two additional rainbow jerseys within the Women's Under 23 category. Nonetheless, this does not change the number of races that will take place.
Australia will be hosting the competition for just the second time, with the 2023 event scheduled to take place in Glasgow, UK, and then Zurich, Switzerland, and Kigali, Rwanda, in 2024 and 2025 respectively.
This page contains affiliate links, where we get a commission if you decide to make a purchase through the links(at no cost to you) and helps support the site. As an Amazon Associate, we earn from qualifying purchases.