The SoCalCycling.com Team had the opportunity to ride the Bottecchia Emme 4 Team edition frame in 2020 and 2021. The 2021 edition of the Bottecchia Emme 4 had an improved integrated head tube with internal cable routing that is routed directly into the head tube for a more aero and cleaner-looking frame. By Bottecchia adding the 1.5-inch bearing on top, it allows for the cables to be incorporated directly into the head tube. The integrated head tube requires a special stem and headset which makes the cock pit look more sleek, clean and visually appealing.
Full Carbon Monocoque Monolith Frame
Italian bike brand Bottecchia uses a Full Carbon Monocoque Monolith Frame design made of one entire carbon fiber mold. Aside from the Full Carbon Monocoque, Bottecchia also uses a Double Mold Monocoque Technology. This allows for fewer imperfections in the frames to produce a lighter more efficient frame. The new Bottecchia Emme 4 Team edition comes in at a feathery 780 grams for a production frame. Some other notable features also include the Ultra Slim Rear Stays and a press-fit 386 Bottom Bracket to make an ultra-light and efficient World Tour caliber racing bike. Top Italian UCI Pro Team, Drone Hopper Androni Giocattoli Team, raced their custom Bottecchia Emme 4 bikes in the Giro d' Italia and other professional European UCI races with much success.
The new Bottecchia Emme 4 Superlight comes available in both a disc brake option and a standard caliper brake option. The SoCalCycling.com Team has had the opportunity to race on Bottecchia bikes for four race seasons, and the 2021 Bottecchia Emme 4 Team edition is the best bike the Team has had the opportunity to ride thus far from Bottecchia.
Customize your Style & color
The Bottecchia Emme 4 Superlight features a wide range of beautiful paint schemes that are available in the following colors:
C58 Red Lab
CA4 Sparkling Glass
C21 Matt black Prisma
CA8 Team
CA5 Prisma
CA3 Black Rainbow
CA6 Blue Rainbow
CA2 Camaleonte
C86 Grafite
Performance
The Bottecchia Emme 4 Italian road bike performs amazingly well in all events including the many criteriums that we have in California.
The bike is very snappy and agile due to its compact design. The Bottecchia Emme 4 is not twitchy like some of the other compact bikes I've ridden in the past and the Bottecchia Emme 4 feels very stable and well-balanced underneath you when out on the road.
The Team rode the rim brake version and is nice that they also offer a disc brake version as well for those that prefer the feel and stopping power of disc brakes. Since the Team's schedule included doing some bigger stage races I thought it would be best to have the lightest and most efficient bikes available and went with the standard caliper brake option.
This bike really screams for the Road Races and Gran Fondo's. The Bottecchia Emme 4 climbs well and handles great on descents allowing cyclists to ride with confidence due to the stability of the bike. You can watch the Drone Hopper Androni Giocattoli Team put the Emme 4 to the test at the Giro d' Italia and see the Bottecchia Emme 4 in action on the iconic Italian climbs and descents.
In conclusion, the Bottecchia Emme 4 is a dream bike that is light, handles well and will motivate you to seek out climbs and descents to enjoy the feel of a precision ride that the Bottecchia Emme 4 provides.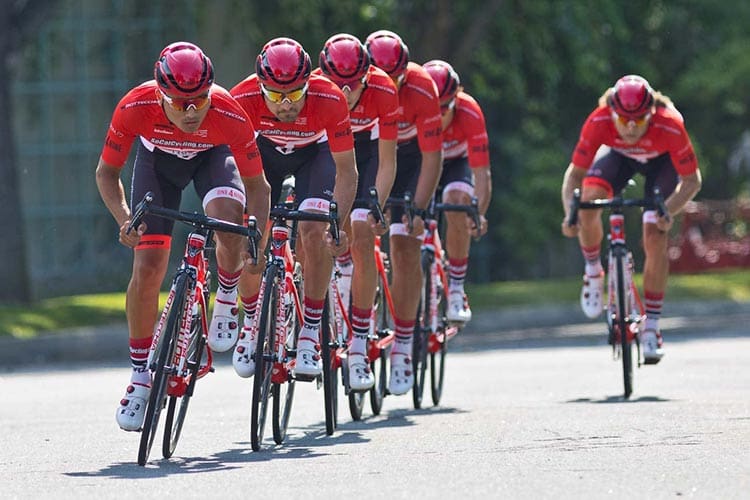 Technical Specs:
Frame
MONOLITH full monocoque superlight carbon, full integrated cable routing, alloy interchangeable dropouts, suitable for caliper or disk brakes, mechanic or electronic groupset.
BB
PRESS FIT 86mm.
Headtube
Integrated 1" 1/2 up and 1" 1/2 down
Fork
Monocoque carbon super light tapered steerer 1" 1/2. 330g of weight, integrated disk brake cable routing.
Colors
C58 Red Lab – CA4 Sparkling Glass – C21 Matt black Prisma / CA8 Team / CA5 Prisma – CA3 Black Rainbow / CA6 Blue Rainbow / CA2 Camaleon -C86 Grafite
Weight
Where to Buy
For more information on the Bottecchia Emme 4 Superlight visit Bottecchia's US Distributor – Gizmo Gear.
Review by Frank Sarate / SoCalCycling.com
This page contains affiliate links, where we get a commission if you decide to make a purchase through the links(at no cost to you) and helps support the site. As an Amazon Associate, we earn from qualifying purchases.