LA Ale Works Debuts West Coast IPA "seek-la-VEE-ah," on Friday Evening, February 10, at Ivy Station, Culver City
CicLAvia has partnered with Los Angeles Ale Works to kick off the 2023 season and launch a beer collaboration with a West Coast IPA affectionately named seek-la-VEE-ah. This venture is all about the "miles of smiles" that Los Angeles' extremely popular open streets events create.
To kick off CicLAvia's 2023 events schedule and debut a West Coast IPA affectionately named seek-la-VEE-ah. A portion of the proceeds from the event and all future sales of seek-la-VEE-ah will be donated to CicLAvia, a 501(c)3 nonprofit organization.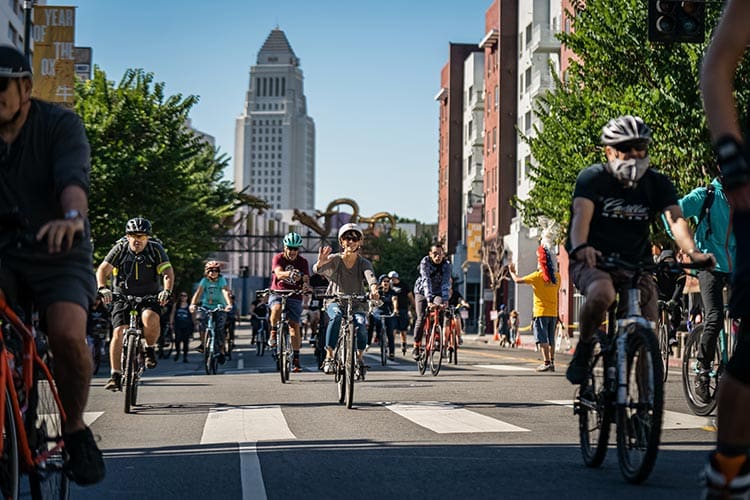 Outside of LA Ale Works' tasting rooms in Culver City and Hawthorne, the beer will be available in cans and on draft throughout Orange, Los Angeles and Ventura Counties. From neighborhood craft beer bottle shops up to larger retailers like Whole Foods, Sprouts and Total Wine. Partners who are interested in carrying the beer, please contact LA Ale Works.
"Near and dear to our hearts, our team has participated in CicLAvia events since the early days of the organization," says Los Angeles Ale Works Managing Partner Andrew Fowler. "We are inspired by how CicLAvia safely brings Angelenos together, the positive environmental impacts it makes, the connections we feel to our communities during the events and the promotion of public transportation. We believe so strongly in public transportation that our new Culver City location is literally built into the Metro E Line station."
LA Ale Works seek-la-VEE-ah West Coast IPA's Attributes
seek-la-VEE-ah beer will catalyze your senses with vibrant notes of stone fruit and California citrus as we celebrate active transportation, public spaces, and car-free streets. Available on draft and in 4-packs of 16 oz cans.
In addition, seek-la-VEE-ah beer has the following characteristics: West Coast India Pale Ale, ABV: 6.5%, Hops: Wakatu, Azacca, Citra, El Dorado, and Idaho 7.
Event Details
The event is Free and no RSVP is required. The event will be in conjunction with the Culver City Arts District Night Market where there will be several food trucks, music, games, local vendors, Wags and Walks dogs up for adoption, other special entertainment, and kid-friendly activities such as The Ballusionist. CicLAvia will be on-site selling merchandise and sharing information about the 2023 schedule. All ages are welcome.
Location: Los Angeles Ale Works, at the Ivy Station Complex, 8809 Washington Blvd, Culver City
Date of Event: Friday, February 10, Culver City Arts District Night Market is open 5-10 pm, LA Ale Works is open 12 pm – 12 am
This page contains affiliate links, where we get a commission if you decide to make a purchase through the links(at no cost to you) and helps support the site. As an Amazon Associate, we earn from qualifying purchases.