April 23rd, 2023 – Downtown San Diego, California
This Year the Event Celebrates Its 15th Anniversary,
USA's Longest Running Gran Fondo
Named in the Top Three USA Granfondos by Granfondo Guide
A Gran Fondo is meant to make an everyday rider feel like a fully supported professional rider, and the Campagnolo Gran Fondo San Diego does so with true Italian panache. Founded in 2009, the event is now in its fifteenth consecutive year and the Italian bicycle component manufacturer Campagnolo has been its title sponsor since 2013. Huge shoutout to The Law Firm of Richard Duquette for being the presenting sponsor and supporting our cycling community.
Three routes allow cyclists of ALL abilities to enjoy this truly authentic Italian experience.
The Gran Fondo Route
FEATURES OF THE ROUTE
Length: 100 miles
Elevation gain: 6,600 ft
All rules of the road
4 aid stations and on Road Support
Timed Japatul Road climb
The Medio Fondo Route
FEATURES OF THE ROUTE
Length: 60 miles
Elevation gain: 3,100 ft
All rules of the road
3 aid stations and on road support
Scenic views of Otay Lakes
The Piccolo Fondo Route
FEATURES OF THE ROUTE
Length: 35 miles
Elevation gain: 1,300 ft
All rules of the road
1 aid station and on course support
Use Code: SOCAL10 to save 10% on registration today
Visit SDGranfondo.com to learn more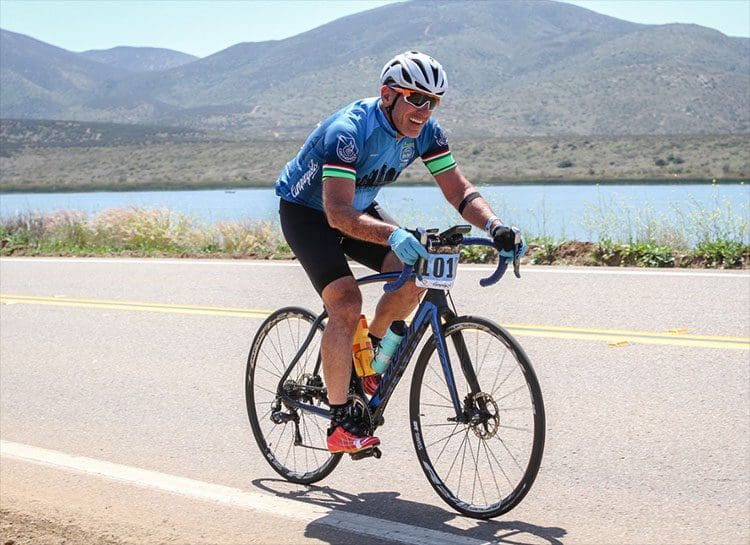 The Campagnolo Gran Fondo San Diego is one of North America's Top Gran Fondo's, attracting cyclists from over 32 states and over 20 countries worldwide. While the ride grows in popularity each year, it maintains its charming, friendly, and intimate atmosphere.
The event begins and culminates on San Diego's waterfront with finisher medals, beer garden, four-course Italian feast, and live music.
Some may ask why a GranFondo would offer shorter ride options, organizers say, "The GranFondo Experience should be fun for everyone. We want to grow the cycling community by encouraging the love of cycling and encouraging everyone to get out there and ride. We've had many riders start out at lower mileages and come back year after year with the goal of conquering one of the longer rides."
"It's all about believing in your abilities and being brave to push yourself to discover what you're truly capable of both physically and mentally."
San Diego shares Italy's temperate Mediterranean climate, and riders can look forward to cycling in ideal temperatures ranging from 60 and 70 degrees Fahrenheit on event day.
The Campagnolo Gran Fondo San Diego is proud to support Life Sports Foundation. `Life Sports Foundation is dedicated to helping people of all abilities who are facing physical, situational, or medical challenges to enrich their lives through sports. This year fundraising efforts at the Granfondo San Diego will support San Diego's Foster Youth Sports participation and extracurricular activities. The beer garden will be taking donations to buy running shoes for foster youth to encourage healthy lifestyles, and including in sports.
Although fundraising is not required it is greatly encouraged. The Ride organizers show their thankfulness by providing a free ride entry and Jersey to any rider raising $600 or more. Corporate fundraising and teams are encouraged.
Registration is open and early entry is advised! www.sdgranfondo.com
USE CODE: SOCAL10 TO SAVE 10% ON ENTRY TODAY
This page contains affiliate links, where we get a commission if you decide to make a purchase through the links(at no cost to you) and helps support the site. As an Amazon Associate, we earn from qualifying purchases.