The Victorville Stage Race (Omnium) was held this weekend in the high desert of Victorville. Originally slated as Stage Race, the event became an omnium leading into the event which allowed some racers a chance to pick and choose the days they wanted to race.
Most teams that are preparing for the upcoming Spring stage races, including the Redlands Bicycle Classic and Tour of the Gila, opted to race all three days, which included a time trial, road race and criterium. The three day race format provided some great training and an opportunity to race in windy conditions.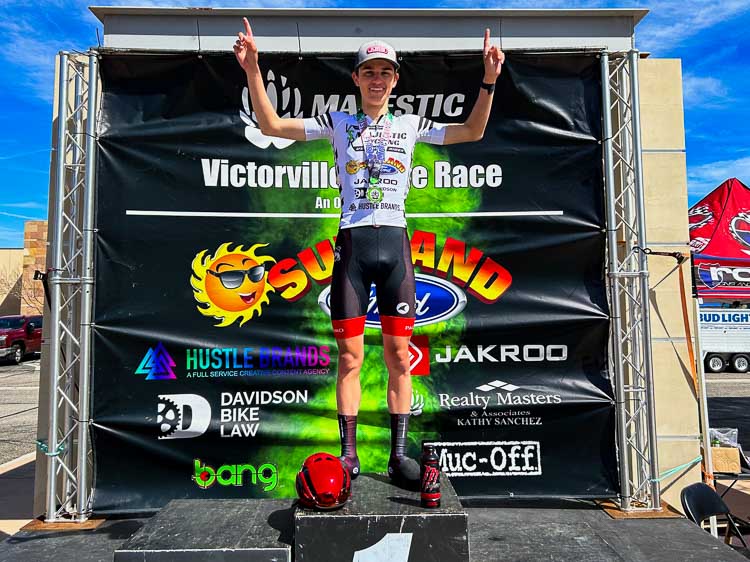 After three days of racing the general classification was settled with the following riders crowned as the GC leaders:
Omnium GC
Pro 1 – John Borstemann (CS Velo Racing)
Women Pro 1/2 – Colleen Gulick ( Team Skyline)
Cat 2/3 – Luke Lynch (Kingston Wheelers)
Women Cat 3/4 – Caitlin Howell (Zone Five Racing)
Cat 4/Novice – Sebastian Afshari
Masters 30+ 3/4 – Lawrence Xia
Women 35+ – Melissa Locher (Bikecoach Cycling Club)
Masters 40+ 1/2/3 – John Garb0 (Go Fast)
Masters 50+ 1/2/3 – Espen Kateraas (S2C/BOSCH pb Primal Team)
Full / Stage Results & Upcoming Events
Subscribe to SoCalCycling.com's Newsletter to receive the latest news and special offers for upcoming cycling events.
Check back to SoCalCycling.com's Event Calendars for more great events, including competitive Road, Mountain Biking, Cyclocross and Gravel Grinders, as well as Fun Rides and Gran Fondos and Results!
Photo © Blake Bailey / SoCalCycling.com Team
This page contains affiliate links, where we get a commission if you decide to make a purchase through the links(at no cost to you) and helps support the site. As an Amazon Associate, we earn from qualifying purchases.