Meet the Citytri E-310 Electric Trike – a true masterpiece that combines affordability, practicality, and style in perfect harmony. Addmotor's latest creation redefines what it means to own an electric trike, offering a thrilling and eco-friendly mode of transportation that won't break the bank. In this article, we will delve into the features that make the Citytri E-310 a top choice for budget-conscious riders seeking an electric trike that seamlessly blends affordability, practicality, and eye-catching style.
Unbeatable Affordability
The Citytri E-310 is designed with affordability in mind, making it accessible to a wide range of riders. Addmotor's commitment to providing the most cost-effective electric trike under $2000 is evident in every aspect of this remarkable vehicle. From its carefully selected components to its efficient manufacturing process, the Citytri E-310 delivers exceptional value without compromising on quality or performance.
To keep it affordable, Addmotor strategically sourced high-quality materials while optimizing production costs. The result? A budget-friendly electric trike that exceeds expectations and offers unbeatable value for money. With the Citytri E-310, you can enjoy the exhilaration of electric triking without worrying about stretching your budget.
Practical Design for Everyday Use
The practicality of the Citytri E-310 is evident in its foldable design, which adds a layer of convenience to daily life. Whether you're navigating crowded city streets or struggling with limited storage space, the foldability of the Citytri E-310 comes to the rescue. With just a few simple steps, you can fold the trike into a compact size, allowing for easy storage in your apartment, office, or car trunk.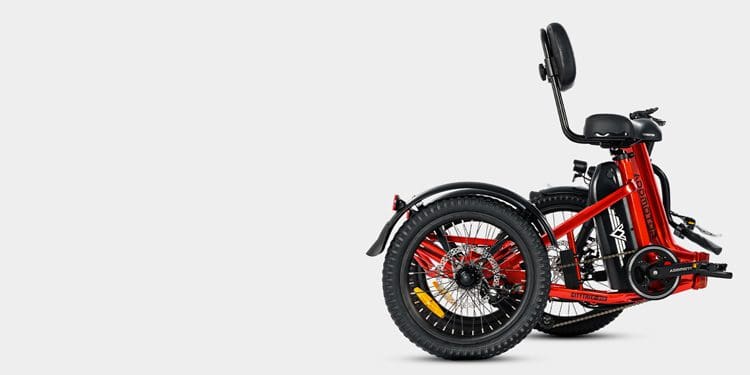 Imagine arriving at your workplace or favorite cafe, folding the Citytri E-310 effortlessly, and tucking it away neatly by your side. No more worrying about parking spaces or leaving your trike exposed to the elements. The Citytri E-310 empowers you to navigate your daily routine with ease and style.
Versatility for All Terrains
The Citytri E-310 is more than just an urban commuter; it's a versatile companion that can conquer a variety of terrains. Its robust frame, a front suspension fork with 80mm of travel, and reflective tires ensure a smooth and controlled ride, whether you're navigating city streets, bike paths, or even venturing outdoor.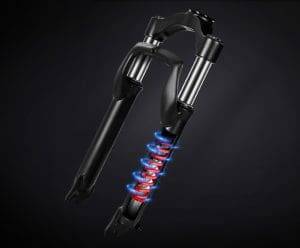 Let's say you're planning a weekend adventure with friends to explore nearby nature trails. The Citytri E-310's adaptability allows you to effortlessly transition from city commuting to outdoor exploration, making it an all-in-one solution for your outdoor escapades.
Eco-Friendly Commuting with Style
Beyond its affordability and practicality, this folding electric trike exudes an aura of style that turns heads wherever it goes. Its sleek lines, modern design, and eye-catching colour options – Candy Red, Yellow, Army Green, Silver Gray, and Neptune Blue – make it a statement piece on city streets.
Picture yourself gliding through downtown traffic, effortlessly maneuvering your stylish Citytri E-310. As you pass by pedestrians and cyclists, you can feel the admiring glances drawn to your eco-friendly and chic mode of transportation.
Functional Design with a Dash of Flair
The Citytri E-310 strikes the perfect balance between functionality and flair. Its adjustable handlebar not only enhances comfort during your rides but also adds a touch of customization to suit your preferences.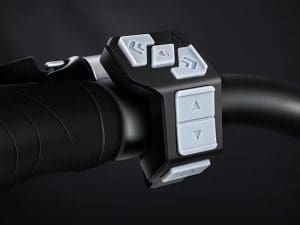 Addmotor has also included an integrated button on the handlebar, providing easy access to essential functions while minimizing distractions. No more fumbling with multiple controls – simply press the button to adjust the pedal-assist levels or activate the throttle for an instant burst of speed.
A Greener Future, One Ride at a Time
As the world gravitates toward sustainable transportation solutions, the Citytri E-310 embraces the spirit of eco-conscious commuting. Its electric-powered motor produces zero emissions, reducing your carbon footprint and contributing to a greener planet.
Imagine the satisfaction of knowing that your daily rides on the Citytri E-310 are making a positive impact on the environment. Every time you hop on your stylish and eco-friendly trike, you become an advocate for a cleaner and more sustainable future.
A Cost-Effective Commute
The practicality and affordability of the Citytri E-310 extend beyond its initial purchase price. Its 48V*20Ah Samsung UL-certified battery boasts an impressive lifespan of 1000-1500 charge cycles, reducing the need for frequent battery replacements. This longevity translates to lower maintenance costs and an overall reduction in the cost of ownership, making the Citytri E-310 a cost-effective choice in the long run.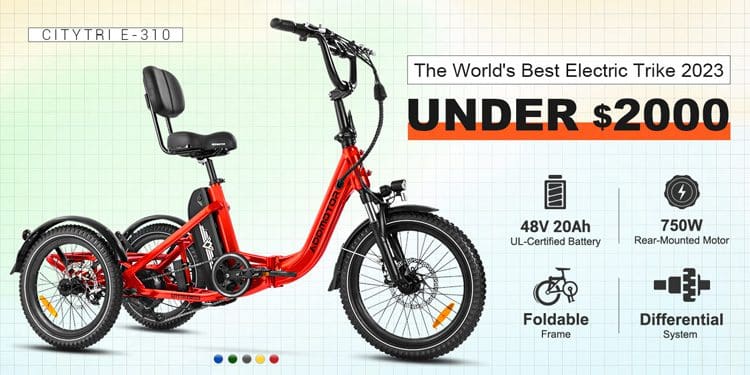 Commuting with Convenience
Consider a typical weekday morning: You wake up, prepare for the day ahead, and glance at your Citytri E-310, folded neatly by the door. With just a flick of your wrist, you unfold the trike and hit the road. No waiting for public transport, no searching for parking spaces, and no concerns about fuel prices.
The Citytri E-310 offers the convenience of a hassle-free commute, allowing you to reclaim valuable time and take control of your daily schedule. With this electric trike, you're not just making a stylish statement; you're gaining the freedom to move at your own pace.
A Trike for Everyone
Regardless of age or physical ability, the Citytri E-310 accommodates all riders with its thoughtful design. Its lower seating position and step-through frame make mounting and dismounting a breeze, eliminating any potential barriers to entry for those with limited mobility.
Imagine how this accessibility opens up new possibilities for different groups of riders. Seniors can enjoy leisurely rides with confidence, students can zip through campus with ease, and daily commuters can experience the joy of a stable and comfortable ride.
Unleashing Urban Adventures
The Citytri E-310 is not just about practicality and affordability; it's also about unlocking thrilling urban adventures. Its impressive range of up to 90+ miles under PAS 1 level allows you to explore your city like never before.
Picture yourself venturing into uncharted territories, discovering hidden gems, and taking detours to uncover the city's best-kept secrets. The Citytri E-310 transforms your daily commute into an exhilarating journey, adding a dash of excitement to your routine.
A Ride with Character
The Citytri E-310's style is not just about aesthetics; it's about character. Its bold colour options let you express your personality and stand out from the crowd. Are you feeling adventurous? Choose Neptune Blue for a dash of boldness. Or perhaps the sleek Silver Gray suits your sophisticated tastes.
With the Citytri E-310, your electric trike becomes an extension of yourself, showcasing your individuality with every ride.
Conclusion
The Citytri E-310 Electric Trike embodies the perfect trifecta of affordability, practicality, and style. With its unbeatable price, foldable design, and eye-catching aesthetics, it redefines the electric trike experience. Seamlessly transition from city streets to nature trails, enjoy eco-friendly commuting and make a statement with your stylish ride.
Imagine gliding through the city, your folding three wheel electric bike a testament to your commitment to a greener future. Fold it effortlessly as you arrive at your destination, confident in your choice of a cost-effective and practical commute.
So, why settle for the ordinary when you can embrace the extraordinary? Discover the Citytri E-310 Electric Trike, where affordability meets practicality with a touch of flair. Unleash the potential for thrilling urban adventures, while reducing your carbon footprint and making a stylish statement on the streets. Upgrade your ride today and experience the electric triking revolution firsthand with the Citytri E-310.
Special SoCalCycling.com Discount
Buy Now and Save $ 100 – Use Discount Code: SO100
This page contains affiliate links, where we get a commission if you decide to make a purchase through the links(at no cost to you) and helps support the site. As an Amazon Associate, we earn from qualifying purchases.