Ride to End Homelessness & Hunger in our Community
In collaboration between non-profits Bike Temecula Valley and Community Mission Of Hope/Rancho Damacitas (CMOH-RD), Cycle for Hope hosts the second annual Cycle for Hope, a cycling event in the city of Temecula to help end homelessness and hunger in our community!
This year we have an option for everyone to hop on their bikes and see beautiful Temecula! Each of our rides has something special for you! Whether you're riding on our newly opened St Gertrudis Trail or through downtown Temecula, traversing through beautiful wine country and our wonderful community parks, you'll be greeted by our wonderful volunteers who will cheer you on throughout your ride!
Cycle for Hope will be returning to CMOH-RD for a special Opening Ceremony and after party at our start/finish village!
You have the ability to make a difference in the lives of our community members through one of three ways:
Will you Consider Joining Us?
RIDE! This is a fun way to bond with teams, employees or colleagues! Spread the word, create a team and ride together!
VOLUNTEER! A great way to connect with colleagues is to volunteer together! Sign up to Volunteer at one of the stations along the course or at our Start/Finish Village!
SPONSOR/DONATE! Advertising your business in a positive light through one of our Sponsorship Opportunities is a special way to contribute to our Community! Every Dollar, Every Donation makes a difference!
Check out more details below about how to get involved!
Ride through newly established Trails and Beautiful Wine Country!
Three local routes available: 15/ 25 /50, a Virtual Ride or Spin at a Participating Studio
15 Mile Ride mostly on class one trails – Perfect Ride for your whole Family! (Special discount for 3 family members or more!)
25 & 50 Mile Rides through Temecula trails and beautiful Temecula wine country
Ride Virtually (Ride on your own Schedule) or take your ride with a group at one of the participating Spin Studios
The Start/Finish Village with an Opening Ceremony and After Party Celebration is at the CMOH-RD Food Pantry
More info about the ride, routes, pricing
Prices Increase on September 19th – Register Today!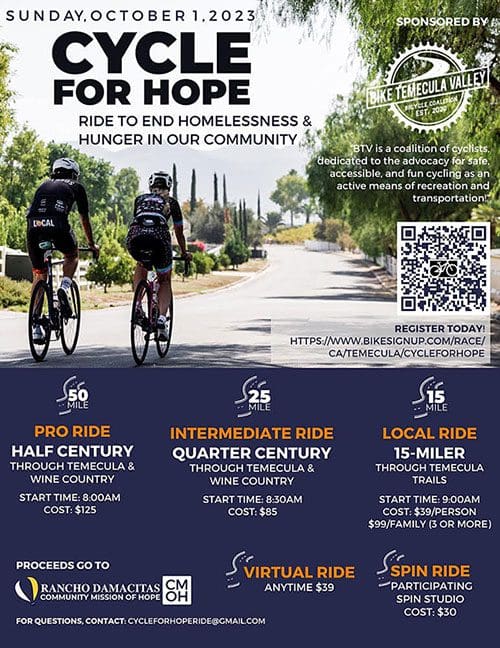 ALL STUDENTS GET A DISCOUNT!
Discount Code StudentHope23 – 30% off
Encourage your STUDENTS to RIDE!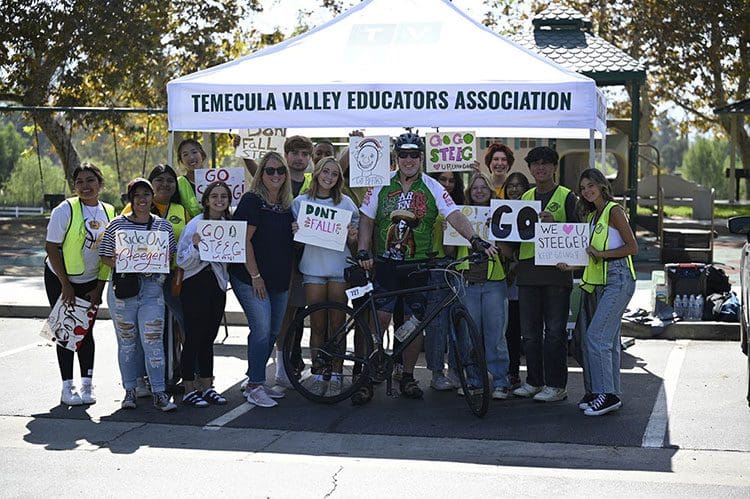 VOLUNTEERS make Cycle for Hope SUCCESSFUL
Volunteers are the heart of this Ride and last year's ride would not have been as wonderful without the 100+ Volunteers who made it happen. Temecula Educators and Business Owners lead the stations along the routes and Students and Employees cheered, passed out waters, and encouraged riders along the way!
Cycle for Hope needs Station Leads and Volunteers. Please consider signing up and spreading the word to help us fill every volunteer opportunity!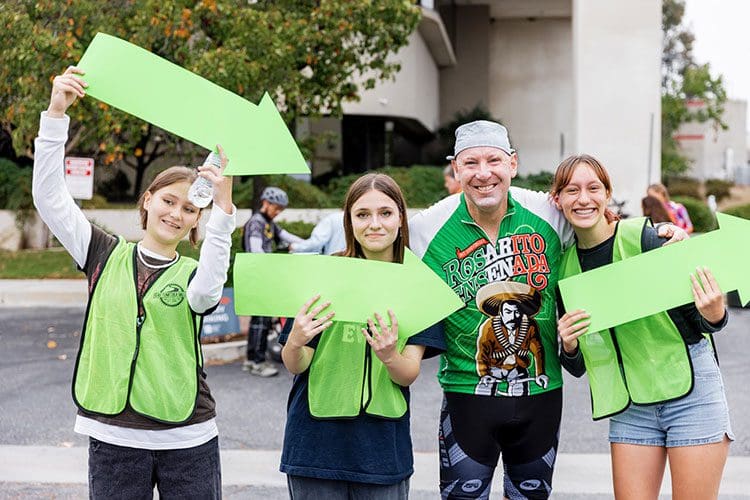 All Students receive COMMUNITY SERVICE Hours!
Station Leads and Students Sign Up to Volunteer Here
Ride Crew: bit.ly/cfhridevolunteer
Volunteer to Help at the Start/Finish Village Here
Support Crew: bit.ly/cfyridesupport
Sponsor or Donate!
Proceeds from the ride, which include sponsorships and donations, will benefit the men, women, children, and seniors served by CMOH-RD.
There are many different levels which may include Free Registrations, your Logo on the Cycle for Hope T-shirt, Promote your business at the Village, Logo on Signage. There is an opportunity for every Organization to Sponsor at one level or another!
Check out the Sponsorship and Support Packet for more details!
Would you like to be a part of our Start/Finish Village? We are looking for Vendors! More information can be found here!
First Annual Cycle For Hope from Wright Productions on Vimeo.
Event Information
2nd Annual Cycle for Hope
When?
Sunday, Oct 1, 2023, 08:00 AM
Where?
41760 Rider Way, Temecula, CA, USA
Bike Temecula Valley
This page contains affiliate links, where we get a commission if you decide to make a purchase through the links(at no cost to you) and helps support the site. As an Amazon Associate, we earn from qualifying purchases.