Registration opens with ambitious participation targets and the introduction of eRacing London
Zwift, the global online fitness platform for cyclists, has announced that registration is open for the 2017 CANYON//SRAM Racing Zwift Academy in a continued partnership with the Women's WorldTour team.
Recently launched at the Rapha Club House, London, the ground-breaking global talent ID program invites female cyclists to compete to win a UCI World Tour contract by riding Zwift. In 2016, the inaugural Zwift Academy saw 1200 registrants from 51 countries. Building on the success of last year's program, Zwift and CANYON//SRAM are expecting to triple that number in 2017.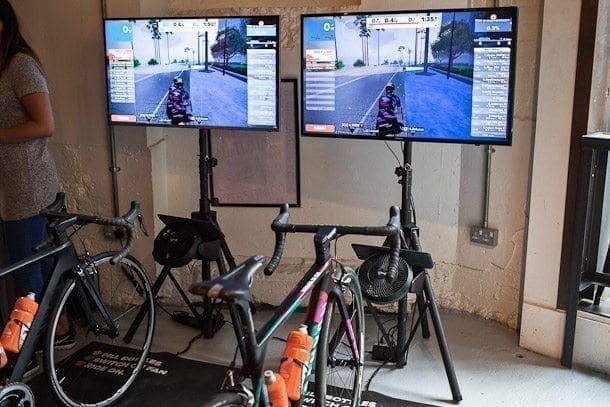 "When we announced the 2016 Zwift Academy, there was a lot of curiosity on whether the program could deliver on its lofty goals," said Ronny Lauke, CANYON//SRAM's Team Manager and Sports Director. "The success of the first year showed that not only could we discover a world-class talent, but we could inspire a global community of female cyclists. With that proof of concept, the sky is the limit for the 2017 edition."
Following the registration period, the Zwift Academy will commence on September 1st with a six-week Qualifying stage, open to all women who want to challenge themselves to be the best cyclist they can be. Participants will be tasked to complete a series of group rides & structured workouts in Zwift.
"My transition from running to cycling to elite level cycling was unreal and only made possible because of Zwift," said Leah Thorvilson, winner of the 2016 Zwift Academy. "I hope my story will inspire thousands more women to strive to be a better cyclist by being part of the 2017 Zwift Academy. It is more than just a competition, the Zwift Academy also created a super friendly and motivated international women's cycling community, so I'd encourage women of all abilities to sign-up!"
Zwift Academy is partnering again with the coaching team, TrainSharp, to design the workouts and analyze performance. The biggest change for 2017 will be the introduction of eRacing to the Semi-Final stage in November.
"Introducing a racing component to the Zwift Academy provides the judges with another important evaluation component," offered Eric Min, Zwift co-founder & CEO. "Zwift Academy eRacing will be an ideal testing ground for measuring and gauging new talent in an expansive, fair, effective and competitive environment."
Hannah Barnes, British Road Race Champion and Canyon//SRAM rider, added "I'm super excited about the launch of the 2017 Zwift Academy, it's such a wonderful opportunity to open the sport up to more women. I can't wait to meet & ride with our contestants in Zwift!"
Three 2017 Zwift Academy finalists will be invited to the CANYON//SRAM Racing team camp in Mallorca, Spain, in December of 2017, with the overall winner of the pro-contract announced shortly afterwards.
Riders interested in joining Zwift Academy can visit academy.zwift.com to find out more and sign up starting today, June 12th.
Zwift Academy 2017 Schedule:
Registration: June 12 – September 1
Qualification: September 1 – October 13
Semi Finals: November 1 – 22
Finals: December
This page contains affiliate links, where we get a commission if you decide to make a purchase through the links(at no cost to you) and helps support the site. As an Amazon Associate, we earn from qualifying purchases.