Erica Allar put on a masterful display of tactical savvy and speed to claim the Criterium National Championship in Louisville, Kentucky. Emma White crossed the line in sixth to finish second in the U-23 category. Allar's win was the team's eighth national title in the last nine days, while Eric Young's second-place in the men's race brought Rally Cycling's nationals podium count to eight.
"This title is quite special," said Allar. "It's my first Elite criterium championship. I wouldn't have guessed that it would have been from a breakaway, but am so pleased. Lauren (Stephens) has been riding very well so to find myself off the front with her with 18 laps to go was not something we had expected. I knew if I rode it well, played it smart, I could win the sprint. I cannot wait to line up in the Rally Cycling National Championship kit. It's been a long time coming and such an honor to wear the stars and stripes."
Rally Cycling dominated the race with Amy Benner covering the first couple of moves before Erica Allar, and Lauren Stephens (TIBCO-Silicon Valley Bank) rode away from the peloton. The duo quickly established a 20-second gap. With Allar out front, Benner, White, Megan Heath, Caitlin Laroche and Monica Volk took up position at the front of the race. The only rider to escape the grasp of the Rally Cycling led pack was Irena Ossola (SAS-MACOGEP) who spent most of the race chasing the lead duo alone.
A crash with five laps to go resulted in turmoil and neutralization of the race. After letting the legs cool, the riders restarted facing a brutal five lap sprint to the line. Allar and Stephens wasted little time and expanded their lead to 45 seconds with just three laps to go. Knowing the power of Allar's finishing kick, Stephens refused to pull through in the closing kilometers, and Allar dropped the pace. The game of cat and mouse allowed Ossola to catch them on the final lap, and she wasted no time in launching a strong counterattack. Allar was quick to respond and was able to use the move to launch her sprint and take the stars and stripes.
McCabe Wins National Criterium Championship
Travis McCabe (Tucson, Ariz./UnitedHealthcare Pro Cycling) captured his first professional championship in a sprint finish for the Men's Pro race. Most of the 65-minute contest was dominated by Brandon McNulty (Phoenix, Ariz./Rally Cycling) and Ben Wolfe (Niantic, Conn./Jelly Belly p/b Maxxis), who created a sizeable gap for more than 20 laps. McNulty tried a solo attack with four laps to go, but was chased down by McCabe and 13 other riders from the peloton on the final lap. Eric Young (Boulder, Colo./Rally Cycling) and Ty Magner (Griffin, Ga./Holowesko l Citadel p/b Hincapie Sportswear) took the second and third, respectively.
"The last lap was all-out racing. It was full gas all the way up the back climb, and I opened up the sprint with 200 meters to go, out of the corner, and held it to the line. I put my head down, and didn't know until about 50 meters to go, and then I had a good feeling that I was going to take it. It felt great," said McCabe, who last donned a Stars-and-Stripes jersey in 2013 when won the Men's Cat 1 amateur criterium championship.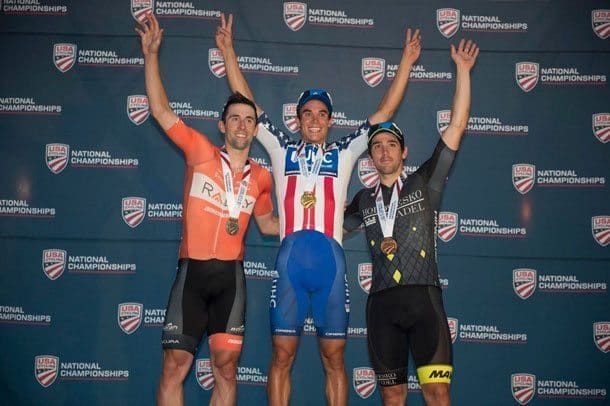 U23 and Juniors  National Criterium Championships
One of the fiercest breakaways of the day was put in by Men's U23 national champion Thomas Revard (Carmel, Ind./Bissell-ABG-Giant). The 20-year-old attacked 30 minutes into the 75-minute slugfest and held a significant lead for 21 full laps, winning in a time of 1:12:49.  Six chasers could not get any closer than 58 seconds. From this group, Noah Granigan (Cape May Court House, N.J./CCB Velotooler) finished second and Zachary Carlson (Indianapolis, Ind./Texas Roadhouse Cycling Team) was third.
In the Men's Category 1 criterium, Ben Renkema (Greenville, S.C./SC Competitive Cyclist) improved upon his third place finish last year and grabbed the gold on Sunday. A large pack of 16 riders finished with the same time, 1:14:09, with Renkema crossing the line first. He was followed by Hogan Sills (Terre Haute, Ind./Bissell-ABG-Giant), who finished second for a second consecutive year. Brandon Feehery (Knoxville, Tenn./Crit Life) followed in third.
The Men's Junior 17-18 criterium saw 126 riders on the downtown circuit. Colby Lange (Edwards, Colo./LUX/Stradling p/b Specialized) surged to the win in 57:49. In a five-rider chase group, teammate Riley Sheehan (Boulder, Colo./LUX/Stradling p/b Specialized) captured second place, just ahead of Denzel Stephenson (Boulder, Colo./Boulder Junior Cycling), one second off the pace.
A gold medalist in the road race on Satruday, Alijah Beatty (Washington, Iowa/Northstar Development Cycling) also claimed the criterium championship in the Women's Junior 17-18 race. She edged out Megan Heath (Alpharetta, Ga./Rally Cycling Devo), who claimed second place for a second day. Heath was the best of 13 riders trying to reach Beatty, and Paige Shumskas (Pipersville, Penn./Fearless Femme Racing) was third overall.
For a second time in two days Megan Jastrab (Apple Valley, Calif./Swami's Junior Development Team) edged out Katie Clouse (LIttleton, Colo./Visit Dallas DNA Cycling) for the championship jersey in the Women's Junior 15-16 division. The winning time was 31:00 for Jastrab, with Clouse and 17 other riders finishing with a one-second time gap. Emma Workowski (Kutztown, Penn./Maloja Pushbiker Future Stars) rolled across the line in third.
Of the 68 riders who started the Men's Junior 15-16 Category 1/2/3 criterium, Tyler Reynolds (Pella, Iowa/Andrie Junior Development Team) outsprinted a pack of 44 riders for the national title in 44:43. Eli Husted (Austin, Texas/Hot Tubes Development Cycling) finished second and David Heath (Alpharetta, Ga./ Frazier Cycling Juniors) grabbed third.
Carmen Davidson (Byron Center, Mich.) added the criterium title to her road race title in the  Women's Junior 13-14 category. She edged Makayla MacPherson (Corona, Calif./Swami's Junior Development Team) to the line for the win in a time of 31:57. Following MacPherson, Olivia Cummins (Fort Collins, Colo./Melton Design Build/GS Forza Cycling) finished two seconds back for third place.
Will Sharpe (Katy, Texas/Northwest Cycling Club) finished in 31:50 to capture a Stars-and-Stripes jersey in the Men's Junior 13-14 division. Artem Shmidt (Cumming, Ga./Keenz Racing p/b Mission Source/NGCA) crossed the line with the same time for second. Riley Cotton (Longmont, Colo./Boulder Junior Cycling) secured third in the field of 63 riders.
For a second day in a row, Lilly McLeod (Brooksville, Fla./Sho-Air TWENTY20 Development) took the top step of a Women's Junior 11-12 event, winning the criterium in 21:23. Divya Verma (Breinigsville, Penn./T Town Elite) earned the silver medal, 14 seconds back. The bronze went to Claire Kudlata (Milwaukee, Wisc./ISCorp. Cycling p/b SmartChoice MRI), who finished 20 seconds off the pace.
The top Men's Junior 11-12 criterium rider was Wesley Haggstrom (Clemmons, N.C./Hearts Racing Club), who won a silver in the road race Saturday. He outsprinted Walter Rozek (Folsom, Calif./Reliable/Taco Bell Racing p/b Kinetic Cycles) in a time of 20:32. Jack Makohon (Heath, Texas/Rockwall Racing) earned the bronze, just four seconds back.
Criterium National Championships – Women
1. Erica Allar (Rally Cycling)
2. Lauren Stephens (TIBCO-Silicon Valley Bank)
3. Irena Ossola (SAS-MACOGEP)
4. Skyler Schneider (ISCorp Powered by Progress)
5. Kendall Ryan (TIBCO-Silicon Valley Bank)
6. Emma White (Rally Cycling)
7. Tina Pic (Papa John's)
8. Laura Van Gilder (Mellow Mushroom)
9. Hannah Shell (Pastaria)
10. Heather Fischer (TIBCO-Silicon Valley Bank)
Criterium National Championships – U-23 Women
1. Skyler Schneider (ISCorp Powered by Progress)
2. Emma White (Rally Cycling)
3. Payton Maness (Papa John's)
Criterium National Championships – Men
1. Travis McCabe (UnitedHealthcare)
2. Eric Young (Rally Cycling)
3. Tyler Magner (Holowesko | Citadel)
4. Brad Huff (Rally Cycling)
5. Miguel Bryon (Holowesko | Citadel)
6. Eric Marcotte (Cylance)
7. Curtis White (Rally Cycling)
8. Jacob Rathe (Jelly Belly)
9. Colin Joyce (Rally Cycling)
10. Luke Keough (UnitedHealthcare)
This page contains affiliate links, where we get a commission if you decide to make a purchase through the links(at no cost to you) and helps support the site. As an Amazon Associate, we earn from qualifying purchases.