Robin Carpenter (Holowesko) crossed the finish line behind stage winner, Alex Howes (Team USA) to gain 6-seconds on the stage that had an average speed of 28.3 mph, securing his overall victory for the second year in a row.  Jacob Rathe (Jelly Belly) came across for third. Gavin Mannion (UHC) and Evan Huffman (Rally) finished in the front group to secure second and third overall on GC.
"The last day is hard, it's a good day to take it," Carpenter said. "It's definitely stressful, I've got to say I was really relieved after the race. I'm a head case when I come to a race I know I can win, so I was happy I could keep it together."
GC contenders were separated by only a few seconds at the start of the Archie Butte Circuit road race, as the men raced 81.6 mile / 5-laps. Teams were prepped for a stressful day, as the KOM competition was also close, with only a 2-point difference between Movistar Team Ecuador and Canel's Specialized.  Jefferson Cepeda (Movistar) was able to hold on, taking the jersey after a hard-fought week.
"There were riders with points close to me so we had to fight since every point was important," Cepeda said. "The work by the team went very well. It's a beautiful race, anytime the team is able to take a jersey home, it's very important."
The finished became chaotic as the men's field caught the women's field only 500meters from the line. Stephen Bassett (Silber) had attacked not long before, with Carpenter behind, when putting in a dig for the line, crashed into Whitney Alison (Colavita).
"We were going so fast," Carpenter explained. "It just happened that it was in the final corner that we merged. It's really unfortunate for Bassett, just looking down and he plowed into her. I was a little bit behind it and managed to get around. He was definitely going to podium, and probably going to win so it's too bad for him."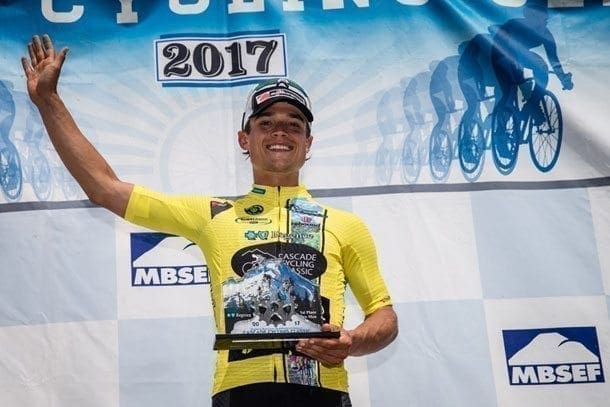 Howes earned the third stage win for Team USA. "We were kind of lucky that we went so bad in the time trial, so it let the other guys sweat over the GC," Howes said. "It's always nice coming back here, rekindle some good memories of my U23 title. At this day and age, it's hard to win any bike race, it doesn't matter if Valverde showed up to a cat 3 race, they don't come free anymore."
Peter Stetina agreed, "The North American level is extremely high, I'm pretty impressed. It feels good to win a race no matter where in the world you are. It's a UCI race so there's points on the line…it's important for both of us."
Taylor Shelden (Jelly Belly) took top points on the first sprint of the day to secure his first green sprint points classification jersey of his career. Luis Villalobos (Aevolo) kept the best young riders jersey.
Sho-Air Twenty20's Allie Dragoo claimed the overall victory in the 38th edition of the Cascade Cycling Classic after five days of tough racing in central Oregon. The 27-year-old finished third on the final day to win the title by just six seconds ahead of stage 5 winner Sara Poidevin (Rally Cycling). Emma Grant (Team Colavita Bianchi) finished a close second at the end of a hot and challenging 50-mile (80km) stage.
"My team really put it all out there for me," Dragoo said. "I'm so thankful to them. I was stressed and anxious before the stage. I owe it to all of them. It's really special to me. It's been a couple of years of ups and downs, it really feels good to end the stage racing season with a win and I owe it to my team."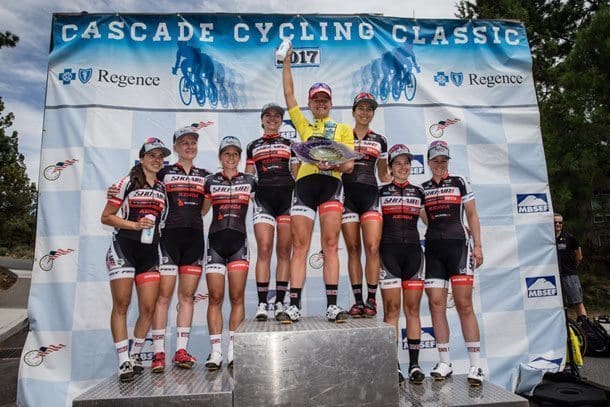 "I owe everything to the man upstairs, I was praying the whole way up the final climb. I knew it was going to be very hard, and she was riding away from me like it was no big deal. I was praying to please give me legs. It was this close, Sara Poidevin raced a really good race, and so did the Rally Cycling team. They made it a fun race for us."
The final stage of the 2017 Cascade Classic was a decisive one for all the jerseys, save the best young rider, in which Poidevin established an early lead. The tension was palpable at the start of the stage that featured three laps of a 16-mile (25.7km) circuit and a steep finishing climb.
The Rally Cycling team came out with all guns blazing, making it a tough day for the young Twenty20 squad to neutralize attack after attack. The first serious break to make it up the road contained Abby Mickey (Colavita Bianchi), Steph Roorda (Sho-Air Twenty20) and Heidi Franz (Rally Cycling). The trio gained a max of around a minute before the second lap pace blew the field apart and former yellow jersey leader Kristi Lay (Rally) bridged Poidevin across to the break.
Dragoo and her Sho-Air Twenty20 team sensed the danger move and moved to the front to neutralize the threat, with Dragoo doing much of the work herself to bring the five riders back. By the top of the second QOM, Dragoo had the leaders in her sights but wasn't getting much help from the decimated field.
With 20km to go, Sho-Air Twenty20 caught the break and the field reset, laying out more attacks before the final 10km saw Claire Rose (Visit Dallas-DNA), Jess Cerra (Hagens Bergman Supermint), Whitney Allison (Team Colavita), Jasmin Duehring (Sho-Air Twenty20) and Sara Bergen (Rally) a 15 second gap.
The GC favorites came all together at the base of the final climb, and from there it was a battle of attrition won by Poidevin, centimeters ahead of Grant. Dragoo came across the line in third, securing her overall win.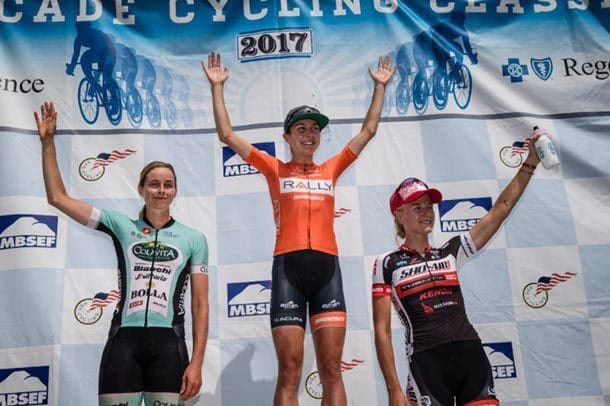 "It's really special. I don't do things for myself, I did it for them," Dragoo said. "I would sacrifice myself for them anytime. Thanks to the all of the people who support us, thanks for making the prize money equal, it's really special. It means a lot."
Poidevin added to her successful week at Cascade with a win in the Queen of the Mountains competition. Bergen was the final recipient of the green jersey.
"I just turned 21 in May," Poidevin said. "This year is very different from last year being in contention for the GC so it changed the race a lot. Once we got in a good position from the first stage for the GC that was our main priority. Of course, it's awesome to come away from the white jersey."
This page contains affiliate links, where we get a commission if you decide to make a purchase through the links(at no cost to you) and helps support the site. As an Amazon Associate, we earn from qualifying purchases.