Technically-innovative cycling apparel brand ASSOS of Switzerland will provide official race jerseys, VIP and staff apparel and licensed merchandise for the 2018 Amgen Tour of California.
America's premier cycling stage race, owned and presented by AEG, will cover 645 miles of roadways, highways and coastlines during seven stages from Long Beach to Sacramento May 13-19, 2018. The Amgen Tour of California Women's Race empowered with SRAM, showcasing the world's best women cyclists, will run concurrently May 17-19, covering 187 miles over three stages.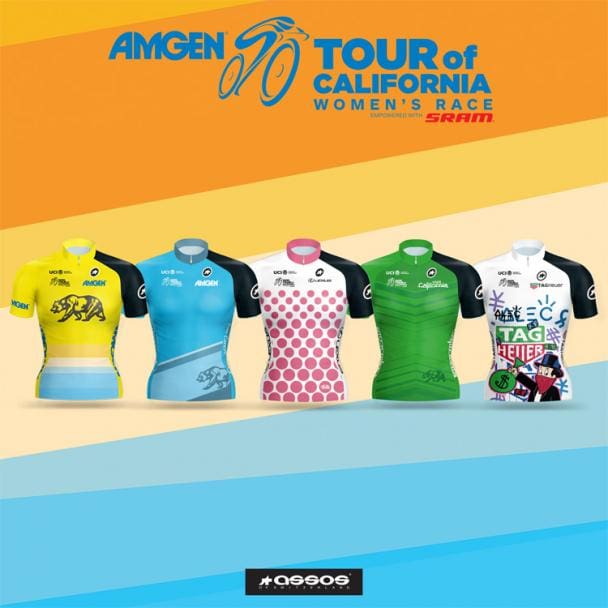 A time-honored tradition in cycling, daily and overall classification leaders are awarded jerseys that signify the best performers in five categories.
"Heading into year two of our sponsorship of the Amgen Tour of California, we are excited to build upon our momentum and continue to support such a great event," said Chris MacKay, Global Brand and Digital Marketing Director for ASSOS. "It's an honor to have ASSOS worn by the daily leaders and the race staff, and we look forward to being on the ground for another year."
The 2018 leader jerseys as well as 2018 Limited Edition and Extra Limited Edition commemorative race jerseys are now available for preorder at amgentourofcaliforniastore.com. During the race, jerseys, race apparel and merchandise will be available at the Amgen Tour of California Lifestyle Festival near the finish line each day and online.
The Amgen Tour of California leader jerseys each represent a specific skill or achievement and are presented to leading riders on-stage at the conclusion of each day's race for both the women's and men's events during a special awards ceremony near the stage finish line:
·        Amgen Race Leader Jersey: The prized "yellow jersey" will go to the rider with the lowest cumulative time over the entire race (each day) at the end of each stage. Traditionally yellow, this jersey often changes hands from stage to stage as each day's results are added into the equation. It is possible for a rider to wear this highly contested jersey without winning a stage since it recognizes overall race times, not stage finish results.
·        Breakaway from Cancer® / Breakaway from Heart DiseaseTM Most Courageous Rider Jersey: This meaningful jersey will be awarded daily to the man / woman respectively who best exemplifies the character of those engaged in the fight against cancer / heart disease – courage, sacrifice, inspiration, determination and perseverance.
·        Lexus King of the Mountain (KOM)/Queen of the Mountain (QOM) Jersey: This jersey recognizes the peloton's strongest climber each day – the rider who collects the most points at KOM/QOM locations on designated mountains and hills. Only the first three cyclists to reach the top on rated climbs receive points.
·        Visit California Sprint Jersey: Cyclists who specialize in bursts of power and speed, or consistently finish near the top of each stage, have the best chance to wear the respected "green jersey." Riders can accumulate points at designated Sprint Lines throughout the course, as well as for finishing the stage in the top ten. "King of California" Peter Sagan (BORA-hansgrohe) will return this year to defend his 7th career California Green Jersey against the likes of world-famous sprinters Mark Cavendish (Team Dimension Data) and Marcel Kittel (Team KATUSHA ALPECIN). Visit California has been a jersey partner since the race's inception in 2006.
·        TAG Heuer Best Young Rider Jersey: Returning race partner TAG Heuer has commissioned world-renowned street artist Alec Monopoly to design this coveted jersey for the second year running, which will be awarded daily to the rider under age 25 with the least amount of elapsed time over the entire race to that point. Wearers of this jersey are cycling stars in the making.
Online Auction benefitting American Red Cross Disaster Relief
Signed apparel from Amgen Tour of California favorites is available through an Amgen Tour of California online auction benefitting American Red Cross Disaster Relief in light of the devastation brought on by wildfires and mudslides throughout the state. Race fans – and California fans – can bid on exclusive items from merchandise to behind-the-scenes race experiences to help people affected by disasters. 100 percent of the proceeds from the Amgen Tour of California auction organized by STAPLES Center Foundation support American Red Cross Disaster Relief.
This page contains affiliate links, where we get a commission if you decide to make a purchase through the links(at no cost to you) and helps support the site. As an Amazon Associate, we earn from qualifying purchases.