The 2018 USA Cycling Amateur Road National Championships are currently being held in Hagerstown, Maryland from July 26-29. Talented cyclists from across the country and Southern California are participating and vying for Championship titles and the prestigious Stars 'N Stripes jersey.
Justin Williams Crowned Amateur Road Race National Champion
USA Cycling reported – The Cat 1 Men took to the course at 7:00am this morning, doing five laps of the thirty-two kilometer course. 118 riders took to the rolling course. Justin Williams (Los Angeles/ENDO CONCEPT TEAM) outsprinted the field to claim the stars-and-stripes jersey. Said Williams about the course "It was perfect. It complimented every type of rider and could have end in a multitude of ways. I love courses that force racers to be smart and not just strong. This national road race to me was a huge step in the right direction for the development of our athletes as tactical bike races and not just engines." Shane Kline (Bally, Penn.) was hot on Williams' heels and took the second step of the podium. Frank Travieso (Athens, Ga./Team United Healthcare Georgia) was right there in the fray and ended up with bronze.
Next on course was the U23 Men's race. Competing on the same course for the same distance as the Cat 1 Men, this race had the unique issue of a race hold as they began their final lap of the course. Electrical storms on course caused a hold on racing for approximately 90-minutes. After restarting the final lap at 4:30 p.m. ET, Alex Hoehn (Lenexa, Kan./Aevolo Cycling) was able to pull it out and take the title. Noah Grannigan (Cape May Court House, N.J./CCB Foundation – Sicler) was close behind to capture silver. Yesterday's bronze medalist in the U23 time trial event, Zeke Mostov (San Francisco/Hagens Berman Axeon), was able to duplicate his efforts for the road race and took home bronze again."
Sean Quinn (LUX/Sideshow p/b Specialized) finished 3rd for a podium spot in the Junior 17/18 Men's race.
Cory Lockwood Wins Amateur Time Trial National Championship
In the Open Men race the top three all flew across the country from California to compete in the event. Cory Lockwood (Tehachapi, Calif./Project Echelon Racing) ended up with the fastest time of the day on the 30-kilometer course, with a 37:14.53. Sam Boardman (Encinitas, Calif./Marc Pro Racing Team) speed into second with a time of 38:30.87. Taking home the bronze was Chris Riekert (San Jose, Calif.).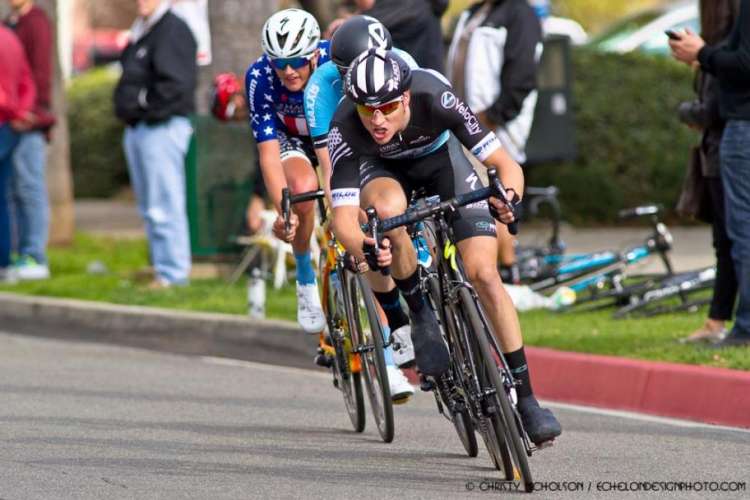 Abby Yougwerth (Boise, Idaho/Sho-Air TWENTY20 Development) bettered her silver medal from last year and took the title in the women's 17-18 race today. She claimed the title with a 30:31.64. Rebecca Kefer (Kernsville, N.C./E3 Endurance) earned the silver with her time of 31:34.90. Finishing in a time of 31:36.82, Jasmine Soh (Olympia, Wash./V.C. Cascade/Slocum Center) came in third.
In the closest contest of the day, with the top three in the 17-18 Men's race separated by less than 10 seconds, Riley Sheehan (Boulder, Colo./LUX Sideshow p/b Specialized) claimed the gold with his time of 26:21.37. Silver went to Andrew Vollmer (Trabuco Canyon, Calif./ LUX Sideshow p/b Specialized). Vollmer clocked a time of 26:24.81. taking the final step of the podium was Michael Garrison (Decatur, Ga./Holowesko | Citadel pb Hincapie Racing) clocking a 26:30.55.
Finishing with a 29:38.89, Zoe Ta-Perez (Orange, Calif./ Sho-Air TWENTY20 Development) took gold home for the first event of the championships. Speaking about her race today, Ta-Perez said "I had a rough season, and today I just wanted to give it my all. I left everything on that course." Megan Jastrab (Apple Valley, Calif./iCademy) punched the clock at 30:38.35, garnering her the silver medal. Carmen Davidson (Bryon Center, Mich./Andrie Junior Development) placed third with a time of 32:02.83.
In the Junior Men 15-16 Race, Magnus Sheffield (Pittsford, N.Y.) finished in a time of 26:42.2, which was fast enough for the stars-and-stripes. Teammates Matthew Riccitello (Tucson, Ariz./LUX Sideshow p/b Specialized) and Logan McLain (Bossier City, La./LUX Sideshow p/b Specialized) took the next two spots of the podium, finishing in 26:50.1 and 27:53.7 respectively.
Marie Grassi (Columbus, Ohio/ProChain Junior Development) took the gold for the women's 13-14 time trial podium finishing in a time of 17:00.7. Maryland native Katherine Sarkisov (North Potomac, Md./Rock Creek Velo) took the second step of the podium finishing in 17:40.0. Women's 13-14 track national champion Chloe Patrick (Carson, Calif./Team Velosport Junior Development) took home bronze with a time of 17:51.76.
In the men's 13-14 division, Artem Shmidt (Cumming, Ga./Mission Devo Cycling) landed the top step with a time of 15:02.25. Viggo Moore (Heriman, Utah/SBRCycles Racing) took silver with a time of 15:33.42. In a time of 16:00.86, Zac Olszewski (Macungie, Penn./Gotham Cyclists) round out the top 3.
For our youngest group of women, Clara James-Heer (Grand Rapids, Mich./Andrie Junior Development) took gold with her time of 18:18.70. For second, Dahlia Kissel (Erlanger, Ky./TEAM LOGIK) clocked a 18:49.72. Taking home bronze was Brooklyn Raddin (Springboro, Ohio/TEAM LOGIK) with a time of 18:58.90.
Grayson Hauck (Allentown, Penn./Gotham Cyclists) won the 11-12 Junior Men's race with his time of 17:26.88. Zachary Lowe (Dover, Tenn./Lift Center Racing) was next with a time of 17:51.62, and Enzo Edmonds (Brooklyn, N.Y./Star Track Racing) was hot on his heels with his time of 17:56.16.
This page contains affiliate links, where we get a commission if you decide to make a purchase through the links(at no cost to you) and helps support the site. As an Amazon Associate, we earn from qualifying purchases.