The USA sealed their second rainbow jersey and added another two medals to their overall tally at the 2019 UCI Road World Championships as Quinn Simmons won the Junior Men's Road Race ahead of Italy's Alessio Martinelli and his compatriot Magnus Sheffield.

The American team was active right from the start and after thinning out the field, Quinn made his winning move on the first of three laps of the Harrogate circuit. The 18-year-old sprung clear with 33km to go on the short, sharp Oak Beck climb and never looked back as he soloed to the biggest win of his fledgling career.

Quinn triumphed by a 56-second winning margin, with solo pursuer Martinelli taking the silver medal before Sheffield outsprinted three rivals for third.

Once again, the weather gods played their part in the drama. Richmond was bathed in sunshine at the start of the day as huge crowds, including hundreds of local schoolchildren, packed Market Place to see the riders away.

The conditions deteriorated on the 106.6km trek to Harrogate, but that didn't stop the Dales looking spectacular as the peloton wound their way through Buckden, Burnsall and Blubberhouses. Giant land art dotted the route and images of Bolton Castle, Kilnsey Crag and Bolton Abbey were among the landmarks being beamed to millions of people across the globe.
By the time the riders hit the Harrogate circuit with 41.5km still to go the heavens had truly opened, but yet again, that didn't stop thousands of fans lining the now-famous drag up to the finish line.

Not surprisingly, it was on that third and final lap where Simmons received his loudest cheer of the day, and the Coloradan even had time to snatch his national flag from family at the side of the road before celebrating his hard-fought victory.

Alfie George led Great Britain home in seventh place meanwhile, and fellow Yorkshireman Sam Watson was 28th.

USA rider Quinn Simmons said: "It was always the plan to try and win solo and my training's been aimed at that. Everything went perfectly today. The roads here are rolling and heavy, and that was a long distance for a junior race. Add the rain into that mix and it wore a lot of people down – which worked to our advantage. When the course was revealed I knew it'd suit me and it's been my goal ever since. To win solo with a flag passed to me by my family is probably the coolest experience I'll ever have in my life. The support here was crazy as well – the largest crowd I've ever experienced in a junior race. I loved it all and I'd definitely like to come back to Yorkshire in the future."

Great Britain rider Sam Watson said: "It was a tough route – up and down all day – and made even tougher by the wet conditions. I ride these roads all the time and I never knew you could actually ride them that quickly. Being local, there was quite a lot of pressure on me but I'm able to deal with that quite well. This whole Championships has been an amazing experience and even though I didn't come away with the result I wanted, the crowds were absolutely fantastic and they definitely kept me going."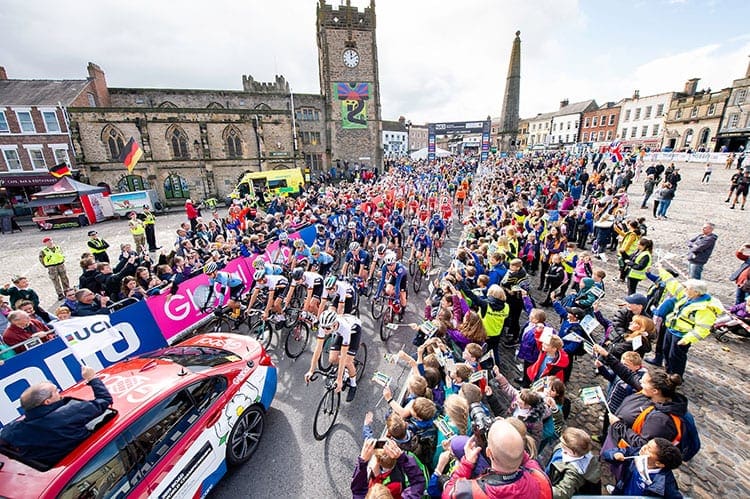 Photos – SWpix.com
Yorkshire 2019 CEO Andy Hindley said: "The was a superb performance from Quinn and he deserves that win – it was an excellent effort. It was a real war of attrition out there and cycling is a tough sport. Once again, the support on the roadside was amazing. The land art in places like Catterick and Carperby was just fantastic and hopefully, we'll see much more of it in the coming races.

"These Championships are enabling communities to get out and celebrate where they live, and we're able to say thanks for that by featuring them on the TV and in the live commentary."

Welcome to Yorkshire Commercial Director Peter Dodd said: "That was a grueling day in classic Yorkshire conditions. Those junior riders will know they've been in a race today. Like Andy mentioned, the amount of land art was remarkable and you don't normally get anywhere near that amount for a Junior World Championships. It was great to see, just as it was that so many school kids were out there lining the route as well, being inspired by the world's best young riders."
Trek-Segafredo signs Junior World Champions Simmons and Tiberi
Trek-Segafredo is pleased to announce they have signed two-year contracts with Junior Road World Champion Quinn Simmons for 2020 and Junior Time Trial World Champion Antonio Tiberi beginning in 2021.
Quinn Simmons, 18, put on an impressive display of strength in the Junior men's road race Thursday, soloing for over 30 kilometers to claim the world title. The USA Junior National Road Race and Time Trial champion moves into the elite ranks in 2020 and will join Trek-Segafredo in Europe, opting to bypass further development in U23 for an immediate jump to the WorldTour level. Simmons also rode the Junior men's Time Trial and just missed out claiming a medal, finishing in fourth place.
Quinn Simmons: "I'm super excited to be making the step to the WorldTour with Trek Segafredo. Their proven ability to develop young riders and a history of success in the Classics makes this the best place for me to continue my development. Over the next two years, I hope to learn as much as possible and make big steps towards the goal of one day winning Paris-Roubaix."
This page contains affiliate links, where we get a commission if you decide to make a purchase through the links(at no cost to you) and helps support the site. As an Amazon Associate, we earn from qualifying purchases.