Lockwood escapes to win 35th Redlands Bicycle Classic, Simmons solos to stage victory
Cory Lockwood (Semper Porro) claimed the biggest win of his career after a gutsy move in the Sunset Loop Road Race, breaking away with five laps to go and hanging on with Quinn Simmons (Landis Cyclery) to the line.

"It's fantastic," Lockwood said. "I've been doing this race for quite a few years now. Specifically this race, I remember Paul Abrahams (KHS Elevate Director) telling me, 'someday you'll win this race,' but then I remember coming out here getting lapped and crashing and this and that, 40thplace, but I just kept working at it. It ended up coming around today. It came around on the last day, it's pretty exciting."

An early crash involving Sean Quinn and Thomas Revard of Hagens Berman Axeon, left Kevin Vermaeke with one teammate for the remainder of the race after the two were unable to continue racing. The unfortunate mishap caused some chaos in the bunch, with no one taking up the responsibility to chase.

Lockwood and Simmons' attack held at two minutes each lap closer to the finish, and despite attempts by Johann Van Zyl (303 Project) and Michael Garrison (Landis Cyclery) to bridge across, the duo withstood their separation and came into the five finishing circuits in downtown Redlands with the same advantage. It was the third day spent in the break in as many days but the first stage win for Simmons.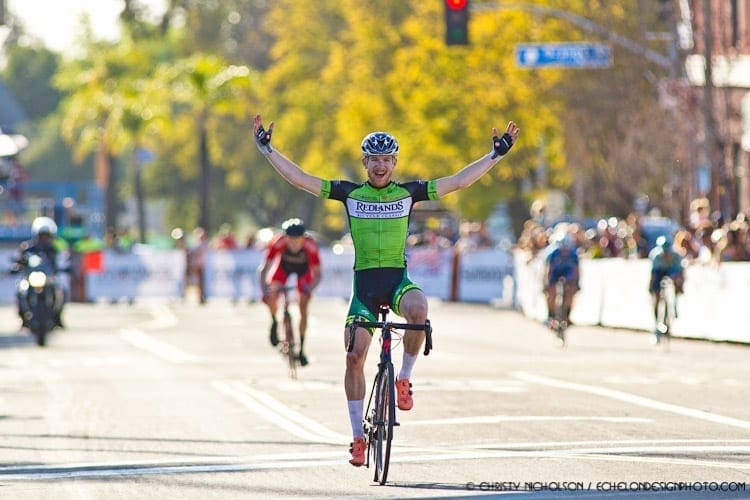 "A little redemption for sure," Quinn said. "The initial goal was to come here to train, and I definitely accomplished that goal. It's nice to not be a marked rider, maybe now, you only get to do that once in your life so. I worked until Cory got the time gap he needed. I just needed enough time to make it to the finish. I agreed to help him until we got a gap and then it was my job to sit on and wait until the finish."
Alexander Cowan (Floyd's Pro Cycling) won the bunch sprint for third place.

"The race was all over the place, especially with losing Axeon no one really knew what to do," Cowan said. "DC Bank was on the front for some reason and then it went to doo doo. Everyone started attacking and then some bridges started happening."

Kevin Vermaerke (Axeon Hagens Berman) took second overall and Eder Frayre (Elevate KHS) claimed third.

"No one really wanted to take control so there were a lot of people attacking and Corey went up the road, there were other people in a position to work in order to save their positions on GC but nobody wanted to work," Vermaerke said. "We were in a tough position, the break was working well together, but no one wanted to do the work back in the main field and the gap opened up, and it was just a tough day. It's a hard course so there's nowhere really to recover, a very hard day."

Quinn Simmons (Landis) landed both the mountains jersey and the sprint jersey after the week of racing. Sean Gardner (Gateway Devo) wrapped up the best amateur competition.
Full results available on www.redlandsclassic.com
Neben earns 4th Redland Bicycle Classic title, Clevenger claims final stage
Erica Clevenger (Sho-Air) claimed victory on the final day of the Redlands Bicycle Classic, outsprinting Sara Poidevin (Rally UHC) in a thrilling Sunset Loop Road Race finale. Lauren Stephens (Tibco SVB) took third place after driving her two breakaway companions to the line in an attempt to claim GC. Her efforts boosted her to second overall.

"This is my second year at Redlands, this is my biggest result of my career," Clevenger said. "I have never had a stage podium before, so this is the coolest thing ever. We had amazing teamwork throughout the race, even without the win this was really special for all of us. We were looking forward to this day, this is a favorite of ours. We had a really good race at Oak Glen and I think we took over the Team GC so I'm super stoked about that too."

Amber Neben did enough to control the breakaway to secure the yellow jersey as the overall winner by 39 seconds ahead of Stephens, earning her fourth Redlands title of her career. Stephens teammate, Emily Newsom, took third place a minute back.

"I really came in with no expectations because I haven't done a lot of top-end intensities so I didn't know how good I was," Neben said. "I knew I had a lot of depth to my fitness but I didn't know if I would be good enough to do the road race. I figured I would have a good time trial but then it's always – the road race is always difficult. I knew I had a young team and this is such a hard race to win without support. My expectations were just to go for it in the time trial and see how long I could defend the jersey if I had it. Every day you're one day closer, you start thinking about winning it."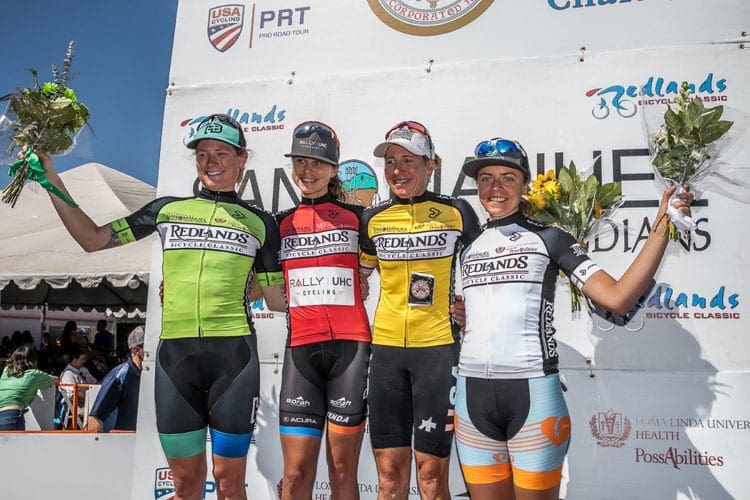 Photo – Dan Munson / Redlands Bicycle Classic
The 68-mile race started off quietly, but after the first lap the fireworks started, with five riders gaining some distance on the pack. They included Clevenger, Poidevin, Stephens, sprint leader Lily Williams (Supermint) and Emily Marcolini (Tibco). They averaged a two-minute gap for the majority of the stage until the final climb, when Stephens pushed the pace, dispatching Williams and Marcolini. The three carried on, with Stephens sitting at the front, trying to time trial her way to a GC win. She couldn't outpace the peloton, however, and had to be content with second overall.

"Today we were all in to try and take over the leaders jersey, what I did today was part of the plan. The goal was to get Emily (Newsom) to come across but there never was the opportunity and then we were racing for. I had to put in quite a bit of time on Amber (Neben) to be able to take over the jersey so I wasn't quite able to get that much time.

"Sunset is a great course, we always say everything changes on Sunset so no matter what happens the days before," Stephens said. "I actually had a bad climb on Oak Glen so to finish up where I am now is pretty impressive because I had dropped down to seventh. I got from second to seventh on Oak Glen."

Williams secured the sprint jersey, Krista Doebel-Hickok (Rally UHC) won the mountains classification and Anna Dorovskikh (Amy D Foundation) claimed best amateur jersey.
Hashtag: #RedlandsClassic
Full results available on www.redlandsclassic.com
This page contains affiliate links, where we get a commission if you decide to make a purchase through the links(at no cost to you) and helps support the site. As an Amazon Associate, we earn from qualifying purchases.