Two years ago, USA CRITS announced a goal of developing a more sustainable race environment for cycling. Making the sport of criterium racing more watchable, and as part of that, more of a team based sport. In 2019, there was a 15% increase in D1 team participation at the eleven races that make up the nationwide season.
Watch USA CRITS for Free in 2020
For 2020, the most teams ever have committed and all Series races will be streaming for free on USACRITS.tv.
D1 Teams Promote USA CRITS Series
D1 is the nomenclature used by USA CRITS to identify Series teams. Teams agree to promote and race the Series and in return USA CRITS provides benefits to the teams. The largest of these benefits being the ability to race on a live stream production and in front of the largest crowds in American cycling. The top four finishers in each race qualify for season team points and individuals earn the same points in the three season long jersey competitions.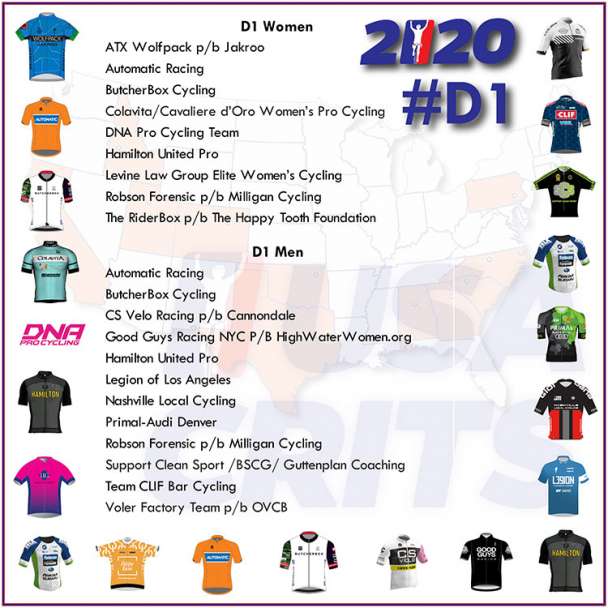 2019 Series team champions ButcherBox Cycling (men) and Colavita/Cavaliere d'Oro Women's Pro Cycling (women) will return to defend their 2019 team titles. They will be joined by nine new teams and four teams racing both male and female squads bringing a new dynamic for fans to engage. The 2020 race calendar has been shared with teams and will be announced to the public on January 23rd. The Series will once again begin with the Hammerfest pre-season event in Birmingham, Alabama, on March 14th.
"Seeing new teams develop with the sole purpose of racing the Series and existing teams gaining new sponsors because they are getting exposure from our broadcasts is exciting. The creation of season long team and rider storylines is what the sport needs. We are making progress toward our goals," said Scott Morris, USA CRITS Development Director.
2020 USA CRITS D1 Teams
D1 Women
ATX Wolfpack p/b Jakroo
Automatic Racing
ButcherBox Cycling
Colavita/Cavaliere d'Oro Women's Pro Cycling
DNA Pro Cycling Team
Hamilton United Pro
Levine Law Group Elite Women's Cycling
Robson Forensic p/b Milligan Cycling
The RiderBox p/b The Happy Tooth Foundation
D1 Men
Automatic Racing
ButcherBox Cycling
CS Velo Racing p/b Cannondale
Good Guys Racing NYC p/b HighWaterWomen.org
Hamilton United Pro
Legion of Los Angeles
Nashville Local Cycling
Primal-Audi Denver
Robson Forensic p/b Milligan Cycling
Support Clean Sport / BSCG / Guttenplan Coaching
Team CLIF Bar Cycling
Voler Factory Team p/b OVCB
This page contains affiliate links, where we get a commission if you decide to make a purchase through the links(at no cost to you) and helps support the site. As an Amazon Associate, we earn from qualifying purchases.