Get ready to set your DVR's for three weeks of racing action in the worlds biggest cycling event of the year, the Tour de France!
Watch on FloBikes
The FloBikes 2020 Tour de France broadcast and content plans for this year's race includes a comprehensive offering that will feature on-location reporting from expert cycling reporters, on-camera commentary and more.
The 2020 Tour de France is available live and on demand for FloBikes subscribers in Canada, and for worldwide audiences, FloBikes is presenting a new feature. For the first time on the platform, FloBikes is hosting live watch parties with pro cyclists Michael Woods and Svein Tuft, who will provide their hot takes and immediate reactions through the final 45km of major stages. It's a virtual Tour de France watch party, hosted by World Tour pros. Subscribe >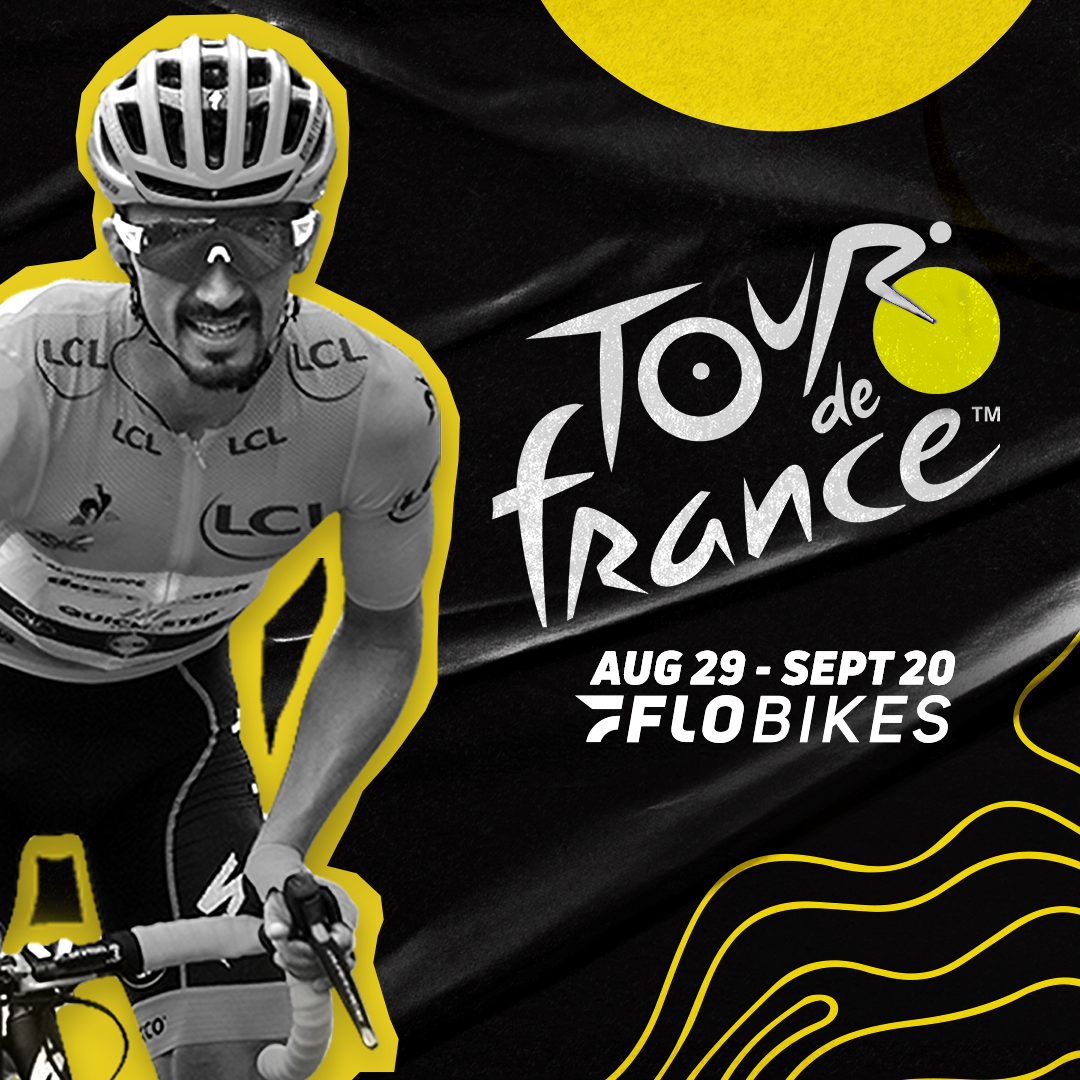 Watch on NBC and NBCSN
In addition, NBC Sports will broadcast live coverage of the 107th Tour de France across NBCSN, NBC Sports Gold & Peacock on TV and streaming.
Below are the viewing times for each stage. All times ET, subject to change.
2020 TOUR DE FRANCE BROADCAST SCHEDULE

Note: All live coverage on NBC and NBCSN is also available on NBC Sports Gold and the NBC Sports app.

| | | | |
| --- | --- | --- | --- |
| Date | Time (ET) | Stage | TV |
| Sat., Aug. 29 | 7 a.m. | Pre-Race Show (LIVE) | NBCSN |
| | 8 a.m. | Stage 1: Nice Moyen Pays / Nice (LIVE) | NBCSN |
| | 9 p.m. | Stage 1: Nice Moyen Pays / Nice | NBCSN |
| | 1 a.m. | Stage 1: Nice Moyen Pays / Nice | NBCSN |
| Sun., Aug. 30 | 7 a.m. | Pre-Race Show (LIVE) | NBCSN |
| | 7:30 a.m. | Stage 2: Nice Haut Pays / Nice (LIVE) | NBCSN |
| | 12:30 p.m. | Stage 2: Nice Haut Pays / Nice | NBCSN |
| | 1 p.m. | Stage 2 Recap | NBC |
| Mon., Aug. 31 | Midnight | Stage 2: Nice Haut Pays / Nice | NBCSN |
| | 7 a.m. | Pre-Race Show (LIVE) | NBCSN |
| | 7:30 a.m. | Stage 3: Nice / Sisteron (LIVE) | NBCSN |
| | 1 a.m. | Stage 3: Nice / Sisteron | NBCSN |
| Tues., Sep. 1 | 7 a.m. | Pre-Race Show (LIVE) | NBCSN |
| | 7:30 a.m. | Stage 4: Sisteron / Orcieres- Merlette (LIVE) | NBCSN |
| | 3 p.m. | Stage 4: Sisteron / Orcieres- Merlette | NBCSN |
| | 1 a.m. | Stage 4: Sisteron / Orcieres- Merlette | NBCSN |
| Wed., Sep. 2 | 7 a.m. | Pre-Race Show (LIVE) | NBCSN |
| | 7:30 a.m. | Stage 5: Gap / Privas (LIVE) | NBCSN |
| | 4 p.m. | Stage 5: Gap / Privas | NBCSN |
| | 11:30 p.m. | Stage 5: Gap / Privas | NBCSN |
| Thur., Sep. 3 | 6 a.m. | Pre-Race Show (LIVE) | NBCSN |
| | 6:30 a.m. | Stage 6: Le Teil / Mont Aigoual (LIVE) | NBCSN |
| | 3 p.m. | Stage 6: Le Teil / Mont Aigoual | NBCSN |
| | 11:30 p.m. | Stage 6: Le Teil / Mont Aigoual | NBCSN |
| Fri., Sept. 4 | 7 a.m. | Pre-Race Show (LIVE) | NBCSN |
| | 7:30 a.m. | Stage 7: Millau / Lavaur (LIVE) | NBCSN |
| | 8 p.m. | Stage 7: Millau / Lavaur | NBCSN |
| | 1 a.m. | Stage 7: Millau / Lavaur | NBCSN |
| Sat., Sep. 5 | 8 a.m. | Stage 8: Cazeres-sur-Garonne / Loudenvielle (LIVE) | NBC |
| | 9 p.m. | Stage 8: Cazeres-sur-Garonne / Loudenvielle | NBCSN |
| Sun., Sep. 6 | Midnight | Stage 8: Cazeres-sur-Garonne / Loudenvielle | NBCSN |
| | 7 a.m. | Pre-Race Show (LIVE) | NBCSN |
| | 7:30 a.m. | Stage 9: Pau / Laruns (Live) | NBCSN |
| | 1 p.m. | Stage 9 Recap | NBC |
| Mon., Sep. 7 | 12:30 a.m. | Stage 9: Pau / Laruns | NBCSN |
| Tues., Sep. 8 | 7 a.m. | Pre-Race Show (LIVE) | NBCSN |
| | 7:30 a.m. | Stage 10: Île d'Oléron / Île de Ré (LIVE) | NBCSN |
| | 3 p.m. | Stage 10: Île d'Oléron / Île de Ré | NBCSN |
| Wed., Sep. 9 | Midnight | Stage 10: Île d'Oléron / Île de Ré | NBCSN |
| | 7 a.m. | Pre-Race Show (LIVE) | NBCSN |
| | 7:30 a.m. | Stage 11: Châtelaillon-Plage / Poitiers (LIVE) | NBCSN |
| | 3 p.m. | Stage 11: Châtelaillon-Plage / Poitiers | NBCSN |
| Thur., Sep. 10 | Midnight | Stage 11: Châtelaillon-Plage / Poitiers | NBCSN |
| | 6 a.m. | Pre-Race Show (LIVE) | NBCSN |
| | 6:30 a.m. | Stage 12: Chauvigny / Sarran Corrèze (LIVE) | NBCSN |
| | 3 p.m. | Stage 12: Chauvigny / Sarran Corrèze | NBCSN |
| | 5 p.m. | Stage 12: Chauvigny / Sarran Corrèze | NBCSN |
| Fri., Sep. 11 | Midnight | Stage 12: Chauvigny / Sarran Corrèze | NBCSN |
| | 6 a.m. | Pre-Race Show (LIVE) | NBCSN |
| | 6:30 a.m. | Stage 13: Châtel-Guyon / Puy Mary Cantal (LIVE) | NBCSN |
| | 3 p.m. | Stage 13: Châtel-Guyon / Puy Mary Cantal | NBCSN |
| Sat., Sep. 12 | 8 a.m. | Stage 14: Clermont Ferrand / Lyon (LIVE) | CNBC |
| Sun., Sep. 13 | Midnight | Stage 14: Clermont Ferrand / Lyon | NBCSN |
| | 7 a.m. | Stage 15: Lyon / Grand Colombier (LIVE) | CNBC |
| | 8 p.m. | Stage 15: Lyon / Grand Colombier | NBCSN |
| Mon.., Sep. 14 | Midnight | Stage 15: Lyon / Grand Colombier | NBCSN |
| Tues., Sep. 15 | 7 a.m. | Pre-Race Show (LIVE) | NBCSN |
| | 7:30 a.m. | Stage 16: La Tour-du-Pin / Villard-de-Lans (LIVE) | NBCSN |
| | 3 p.m. | Stage 16: La Tour-du-Pin / Villard-de-Lans | NBCSN |
| Wed., Sep. 16 | Midnight | Stage 16: La Tour-du-Pin / Villard-de-Lans | NBCSN |
| | 6 a.m. | Pre-Race Show (LIVE) | NBCSN |
| | 6:30 a.m. | Stage 17: Grenoble / Méribel Col de la Loze (LIVE) | NBCSN |
| | 3 p.m. | Stage 17: Grenoble / Méribel Col de la Loze | NBCSN |
| Thur., Sep. 17 | Midnight | Stage 17: Grenoble / Méribel Col de la Loze | NBCSN |
| | 6 a.m. | Pre-Race Show (LIVE) | NBCSN |
| | 6:30 a.m. | Stage 18: Méribel / La Roche-sur-Foron (LIVE) | NBCSN |
| | 3 p.m. | Stage 18: Méribel / La Roche-sur-Foron | NBCSN |
| Fri., Sep. 18 | Midnight | Stage 18: Méribel / La Roche-sur-Foron | NBCSN |
| | 7 a.m. | Pre-Race Show (LIVE) | NBCSN |
| | 7:30 a.m. | Stage 19: Bourg-en-Bresse / Champagnole (LIVE) | NBCSN |
| | 4 p.m. | Stage 19: Bourg-en-Bresse / Champagnole | NBCSN |
| | 11 p.m. | Stage 19: Bourg-en-Bresse / Champagnole | NBCSN |
| Sat., Sep. 19 | 6:30 a.m. | Pre-Race Show (LIVE) | NBCSN |
| | 7 a.m. | Stage 20: Lure / La Planche des Belles Filles (LIVE) | NBCSN |
| | 4:30 p.m. | Stage 20: Lure / La Planche des Belles Filles | NBCSN |
| Sun., Sep. 20 | 1:30 a.m. | Stage 20: Lure / La Planche des Belles Filles | NBCSN |
| | 9 a.m. | Pre-Race Show (LIVE) | NBCSN |
| | 9:30 a.m. | Stage 21: Mantes-la-Jolie / Paris (LIVE) | NBCSN |
| | 8 p.m. | Stage 21: Mantes-la-Jolie / Paris | NBCSN |
| Mon., Sep. 21 | Midnight | Stage 21: Mantes-la-Jolie / Paris | NBCSN |