14 men's teams and 10 women's teams will race across the 10 USA CRITS national calendar events as D1 Teams. Returning for 2021, to defend their team championship will be both 2019 team champions, Colavita HelloFresh Pro Women's Cycling (women) and ButcherBox Cycling (men).
On the line in 2021 for the D1 Teams will be the three leader's jerseys and the HelloFresh Team Championship. Over $150,000 in purses will be at stake as well as another $80,000 on the expanded non-points calendar to be released in February. The season will culminate for D1 teams as Winston-Salem hosts the 2021 USA CRITS Finals along with the new International Crit Challenge, bringing international teams to race against American D1 programs in the days following the September USA CRITS Finals.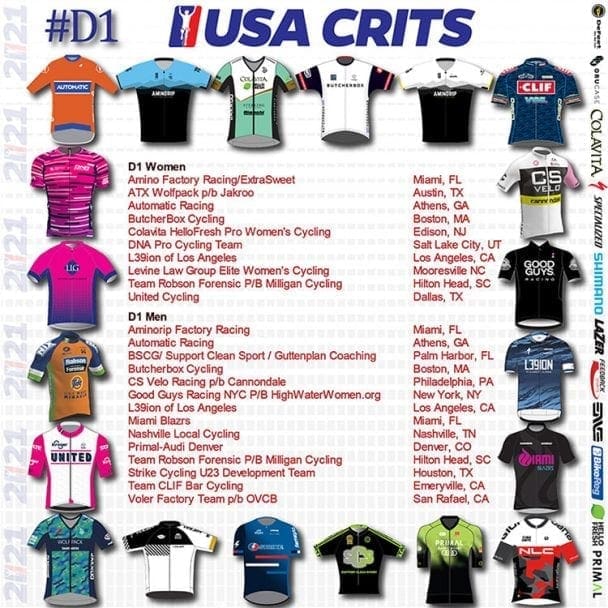 Watch Live Racing on USACrits.tv
All 2021 USA CRITS races will be streamed live for free on USACRITS.tv. In total, 20 days of live racing are scheduled to be streamed on the USA CRITS and expanded race calendars.
D1 Team Release video 2021 from USA CRITS on Vimeo.
Continued emphasis on expanding the professional team aspect of criterium racing will be made as several events move toward a team-only invitation format and others have fields that will be D1-only team races. Birmingham Hammerfest Fueled By BOLT24 and the Finals race at the Winston-Salem Cycling Classic will host D1-only races. All events will continue to offer races across license categories.
Criterium racing now makes up over half of all American road cycling races.
"Despite the challenges of 2020, it is exciting to be able to see continued growth in our D1 program as well as expansion at the event level," said Scott Morris, USA CRITS Managing Director.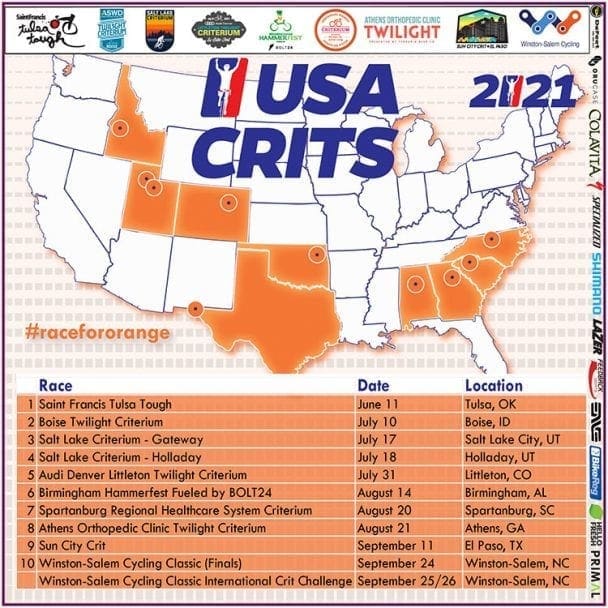 Women's programs continue to be a focus of USA CRITS. "We are placing priority on sponsors and programs that are investing back into women's cycling. Women currently make up a smaller percentage of racers leading to challenges in them finding, forming, and funding teams. One solution put into place was our database of interested riders allowing teams to connect with female athletes looking to be part of a D1 program," said Morris.
"Seeing new D1 teams develop with the primary purpose of racing USA CRITS and existing teams growing professionally are positive signs. The creation of season-long team and rider storylines is what the sport needs. Continued increases in the quality and value of our local events also play a key role. We are making progress toward our goals," continued Morris.
Spartanburg Regional Healthcare System Criterium has selected to use their alternate date and will be moved to August 20th. The event will be the day before Athens Orthopedic Clinic Twilight Criterium and will make Spartanburg the seventh Series points race and first date of Speed Week in a soon to be released expanded calendar.
Partnering toward a sustainable, watchable, team-based format for the sport of criterium racing in America.
This page contains affiliate links, where we get a commission if you decide to make a purchase through the links(at no cost to you) and helps support the site. As an Amazon Associate, we earn from qualifying purchases.