The 2022 Tour de France route has been announced and will feature racing in four countries including Denmark, Belgium, Switzerland and France. This is the most countries since 2017. Denmark will become the 10th country to host the Grand Départ, and the most northerly in the Tour's history. In France, the race will visit 8 regions and 29 departments.
Stages
There will be 21 stages:
6 flat stages
7 hilly stages
6 mountain stages with 5 summit finishes (La super Planche des Belles Filles, Col du Granon, Alpe d'Huez, Peyragudes, Hautacam)
2 individual time trial stages
2 rest days
1 transfer day
Dates
The 2022 Tour will start on 1st July, on a Friday and not on a Saturday as usual. This is to allow for the transfer to France following the three Grand Départ stages in Denmark.
New Stage Towns
There will be 9 new stage towns that will be hosting the Tour for the first time:
Copenhagen (start and finish of stage 1)
Roskilde (start of stage 2)
Nyborg (finish of stage 2)
Vejle (start of stage 3)
Sønderborg (finish of stage 3)
Aigle (start of stage 9)
Castelnau-Magnoac (start of stage 19)
Lacapelle-Marival (start of stage 20)
Rocamadour (finish of stage 20)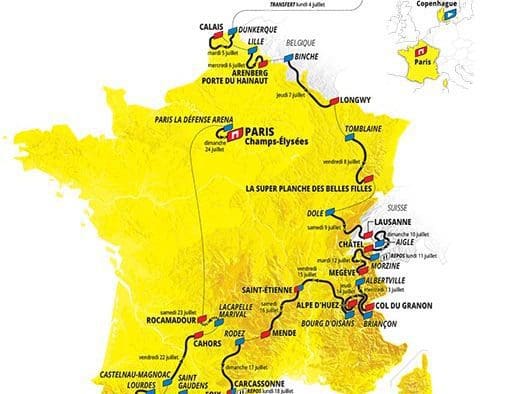 Featured Mountains
The Vosges, Alps, Massif Central and Pyrenees are the four mountain massifs that will feature in this 109th edition, appearing in that order. There's one climb, the Col de Spandelles (1,378m) in the department of Hautes-Pyrénées.
Cobbles
They'll be making their return after a four-year absence. Stage five Lille Métropole > Arenberg Porte du Hainaut will feature 19.4km of cobbles, split across 11 sectors, ranging in length from 1.3 to 2.8km.
Time Trials
53km is the combined distance of the two individual time trials in the 2022 Tour: 13km on the opening stage in the centre of the Danish capital, and 40km on the penultimate stage between Lacapelle-Marival and Rocamadour.
Time Bonuses
The first, second, and third riders across the line on each stage will receive a time bonus of 10, 6, and 4 seconds, respectively.
Prize Money
A total of 2.3 million euros will be awarded to the teams and riders, including € 500,000 to the final winner of the overall individual classification.
Tour de France Femmes Avec Zwift
The inaugural edition of the Tour de France Femmes Avec Zwift is scheduled for 24th to 31st July 2022, at the Palais des Congrès in Paris this morning.
The eight stages that make up the event capture the essence of cycling past, present and future, from the Champs-Élysées, where the opening stage will be decided right before the men's Tour de France comes to a close, all the way to the Super Planche des Belles Filles, not to mention the Ballon d'Alsace and a white gravel road stage in the vineyards of Champagne.
The eight stages of the Tour de France Femmes avec Zwift:
Sunday 24 July Stage 1: Paris Eiffel Tower > Champs-Élysées, 82 km
Monday 25 July Stage 2: Meaux > Provins, 135 km
Tuesday 26 July Stage 3: Reims > Épernay, 133 km
Wednesday 27 July Stage 4: Troyes > Bar-Sur-Aube, 126 km
Thursday 28 July Stage 5: Bar-le-Duc > Saint-Dié-des-Vosges, 175 km
Friday 29 July Stage 6: Saint-Dié-des-Vosges > Rosheim, 128 km
Saturday 30 July Stage 7: Sélestat > Le Markstein, 127 km
Sunday 31 July Stage 8: Lure > Super Planche des Belles Filles, 123 km
This page contains affiliate links, where we get a commission if you decide to make a purchase through the links(at no cost to you) and helps support the site. As an Amazon Associate, we earn from qualifying purchases.