On Sunday, December 5, CicLAvia is once again creating miles of open streets at CicLAvia–South LA. It's an opportunity to bike, skate, run, walk, skateboard, spectate, and experience the neighborhoods of South Central, Exposition Park, Leimert Park, and Crenshaw in a new way.
The event is free (no reservation needed – just show up anytime!) and open to all. Motorized wheelchairs and related vehicles for people with disabilities are allowed; otherwise only people-powered vehicles (bikes, skates, your own feet) are permitted. Check out more details on route rules & safety tips here.
Reminder: wear a helmet when you're riding a bike, skateboard, or skates – and if you're under 18, it's the law.
And you don't have to run, walk, skate, or bike at all! You can catch a free pedicab ride instead: just look for the Pedicab Stops sign at each Hub's info booth – and enjoy a trip along the route without breaking a sweat.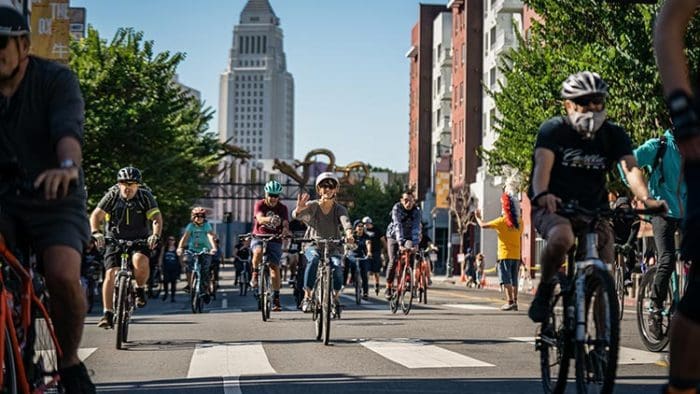 Photo by Jon Endow
CiCLavia is closely following LA County Public Health guidelines as we approach the event. Masks are now required on public transit and in all indoor public places in Los Angeles County, as well as at events with over 10,000 attendees. If you forgot yours, we will have complimentary disposable masks available at Info Booths – and CicLAvia-Branded masks for sale to add to your collection.
If you are not fully vaccinated yet, plan to stop by the free, drop-in vaccination clinic (booster shots included) on the route. More details coming soon.
Art, Food, and LA History
Part of the fun of CicLAvia Sunday is discovering something new on a street you've driven through a hundred times. So what can you expect in South LA?
See countless works of public art as well as artistic establishments like the Lula Washington Dance Theater, CAAM, the Science Center, and the still-under-construction (and spaceship-shaped) Lucas Museum of Narrative Art. You'll see points of history, from MLK Park to Obama Blvd, and the in-progress arts hub Destination Crenshaw. And (as always) a lot of delicious local eats.
Check out our Local Gems blog before you hit the streets. And use our Google Map of the route to plan your day. Don't forget to share the adventures you have on event day – and tag us when you post!
• CicLAvia-South LA; Sunday, December 5, 2021 – Route details to follow shortly
MORE INFORMATION
Please visit ciclavia.org/south_la21 for more detailed information.
Top photo courtesy CicLAvia
This page contains affiliate links, where we get a commission if you decide to make a purchase through the links(at no cost to you) and helps support the site. As an Amazon Associate, we earn from qualifying purchases.