The Tour de Murrieta 2-day bicycle race and festival is back for its 17th edition! The Downtown Grand Prix course pb by Davidson Bike Law along with the Circuit Race pb by Pulido Cleaning and Restoration remains unchanged, but new for 2022 is the re-introduction of the Team Competition for the Pro Men and Women's fields! The top five finishers in their respective categories will be tallied for points and a unique, wine country wine barrel trophy sponsored by the Belching Beaver Brewery (a new business coming soon to the city of Murrieta!) will be awarded.
Primal Wear, Inc. is the official jersey presenting sponsor for the overall omnium winners and combined with the Orange Bubbly from the race presenting sponsor – Wine Ranch Grill & Cellars, you are guaranteed to get sprayed on the podium! Talking about moisture, mother nature is calling for a perfect race weather weekend in April.
Registration Now Open
In 2021, the Men's Category 4/5 field filled during the pre-registration period, so do not delay and register today. Also back this year is the ever so popular Women's 35+ category! Although we regularly have same-day registration spots available on race day, why delay, register now and save yourself the race day late fees. Teams Legion of Los Angeles, Blaze of Miami, SoCalCycling.com Team amongst others have claimed their spots in the Pro Men's fields, get with it and claim yours as well!
Enjoy A Fun Two-Day Bicycle Festival and Kids Race
The Saturday Downtown Grand Prix Festival will once again be accompanied by its exposition consisting of bicycle industry products, food and beverages, and a bicycle safety booth hosted by Stage 2 Cycling Team, the California Highway Patrol and Fire Department – and you do not want to miss the ever so popular kids' race that takes place at noon, presented by Pacific Western Bank of Murrieta. No entry fee, in exchange for a canned food donation item that will benefit the local food pantry – medals will be presented to all participants. So bring the entire family and your smiling faces and we will see you at the downtown Tour de Murrieta 2-day bicycle race and Festival!
Register now at: bikereg.com/tour-demurrieta and or visit tourdemurrieta.com for more information.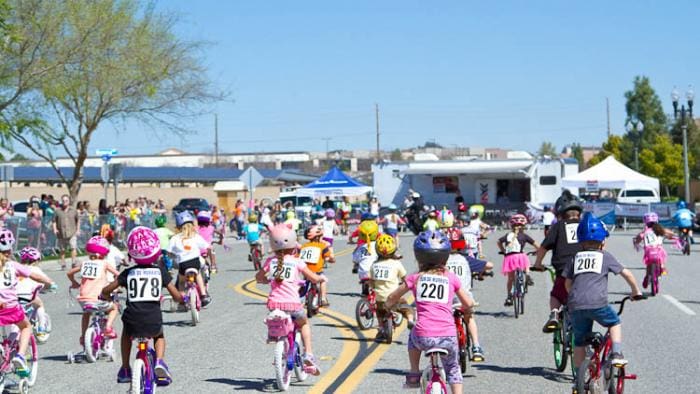 This page contains affiliate links, where we get a commission if you decide to make a purchase through the links(at no cost to you) and helps support the site. As an Amazon Associate, we earn from qualifying purchases.