On June 14, Quebec's Sébastien Sasseville, an endurance athlete, ultra-cyclist and motivational speaker embarked on a pinnacle moment in his cycling career with the start of his first Race Across America (RAAM), completing the feat on Sunday, June 26. RAAM is an invite-only cycling race and considered one of the most respected and challenging cycling races in the world.
In comparison, RAAM is 30% longer than Tour De France and spans over 3,000 miles, crossing 12 states and climbs 175,000 feet. Sébastien qualified for RAAM by riding across Canada in 15 days and 17 hours in 2021 and began a demanding training regime in preparation for the race, including sessions focused on power and functional threshold power (FTP); he later introduced longer rides (100-250 miles) a few months before the race.
Sébastien had to prepare for the grueling race both mentally and physically, including management of a chronic disease. Since 2002, Sebastien has lived with Type 1 diabetes, an autoimmune disease in which the body's immune system attacks and destroys the insulin-producing cells of the pancreas. This means Sébastien must monitor his glucose levels 24/7 to make sure they're in a healthy range because his body doesn't regulate glucose on its own.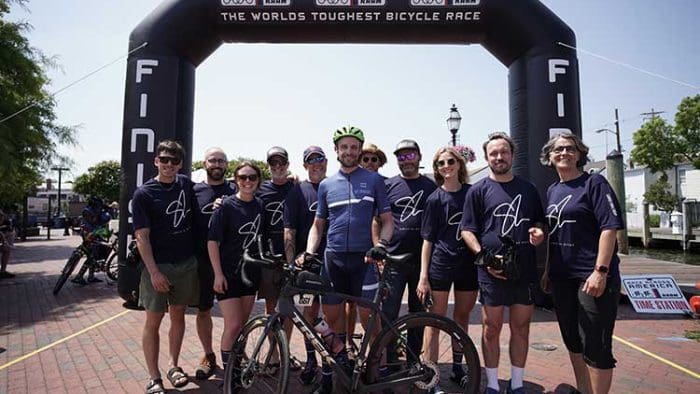 Since his diagnosis, Sébastien has not let diabetes hold him back from living life to the fullest. Outside of RAAM, Sébastien has become the first Canadian with Type 1 diabetes to summit Mount Everest, complete 10 Ironman competitions, ran across Canada: the equivalent of 180 marathons in 9 months completing on National Diabetes Day, among other numerous athletic achievements.
Living with diabetes requires constant monitoring of one's glucose levels. To manage his diabetes during his training and the race, Sebastien used a Dexcom G6 continuous glucose monitor (CGM), a small wearable device that monitors his glucose levels in real-time and sends alerts directly to a compatible smart device if his levels are too high or low, an incident that can be life threatening.
Using the Dexcom Follow feature, Sébastien's team kept track of his glucose levels while Sébastien could check his levels quickly via his Garmin smartwatch. Thanks to this remote monitoring technology, Sébastien could focus on finishing the RAAM with the peace of mind that his glucose levels were under control.
During the nearly 12-day journey that began in Oceanside, California, Sébastien rode a minimum of 250 miles a day, traversing three major mountain ranges and other iconic American landmarks such as the Sonoran Desert, Great Plains, and Gettysburg. Reflecting on the race, Sébastien says RAAM was, "the most rewarding experience of my career filled with major physical and psychological challenges, highlighted by tremendous joys and very dark moments, all of which taught me a lot."
Sébastien arrived in Annapolis Maryland on Sunday, June 26, covering more than 3,000 miles in 11 days, 22 hours and 25 minutes. Sebastien finished 6th in his age category and 12th overall. After finishing the race, Sebastien said, "I hope my race will inspire people with diabetes, so they learn to accept their condition, accept themselves as they are and realize that anything is possible."
Crédit photo – Dan Aponte
This page contains affiliate links, where we get a commission if you decide to make a purchase through the links(at no cost to you) and helps support the site. As an Amazon Associate, we earn from qualifying purchases.