Men's Race
Stites Scores Second Time Trial Victory at Redlands Classic
Tyler Stites blazed through the Route 66 time trial course to win stage 3 for a second year running. The Project Echelon rider finished in a time of 17:43, only 4 seconds slower than he had finished on the same course last season. Toronto Hustle's Matteo Dal-Cin had come through the line only minutes before in 17:51 for second place. Toby Røed racing for Above and Beyond Cancer this season finished in third and was the last rider to finish under the 18-minute mark.

"It was good; I love this course, it's fast and good pavement," Stites said. "Zack (Gregg) and Stephen (Vogel) are really smart TT guys, they told me some tips for the pacing so I listened to them. The pacing was a lot different than last year. The wind was a completely different direction. It was a similar time, but a very different effort."

Gregg had been in the hot seat for most of the day, being part of the first group of riders out of the start house. He finished in 18:06, a time that held for a big part of the race until Dal-Cin came in. The yellow jersey at the start of the day, Ricky Arnopol would finish in 18:18 in 13th place on the stage. The effort would keep him on the podium, handing yellow over to his teammate Stites with a 9-second lead heading into Saturday's crit.

"It's going to be tough, hopefully the crit won't be too tough to defend," Stites said. "Sunset I'd say is the queen stage of the race. It's really hard to defend but I think between Ricky and me high up on GC, I think that will help. We'll give it our best shot."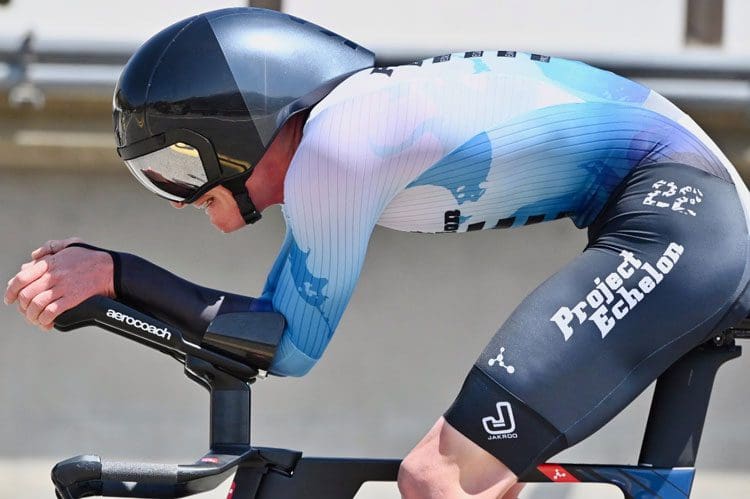 AJ August came in 7th on the stage in 18:10, another stellar performance from the Hot Tubes Development team rider. August continues to have a solid ride at Redlands, as he hone's his road racing skills coming from an impressive junior cross background.

"This is my third full season on the road, I grew up doing cyclocross," August said, a past junior USA national cyclocross champion and Koppenbergcross winner. "I think the skill sets I got from cross really help me on the road. The cold and the wet felt right at home yesterday."

The 17-year-old has moved up to third only 12 seconds down on GC, and 34 seconds ahead of Robin Carpenter (L39ion of Los Angeles) in fourth.

"It was really windy; I think everyone was struggling with it. I haven't had too much time on the TT this year so to do a solid ride, I was pretty happy."
Downtown Redland's Stage 4 will be one for the sprinters in the bunch. The men will race the criterium in the late afternoon following the pro women, before it all comes down to Sunset Loop on Sunday.

Women's Race
Twenty24 Sweeps Time Trial Podium a Redlands Classic
Emily Ehrlich led the charge for Virginia's Blue Ridge Twenty24, taking the victory in 20:10 at the Redlands Bicycle Classic Route 66 time trial for stage 3. Her teammates, Melisa Rollins was second with a time of 20:25, followed by Laurel Quiñones in 20:39. All three have been training under the guidance of multi-time Olympic Time Trial Champion Kristen Armstrong.

"They made my day!" Armstrong said in a message posted on Instagram.

The sun had made its return Friday, but brought wind gusts along with it. Temperatures continued to hover around the mid 50's making for another cool day of racing in Southern California. Alyssa Sarkisov of DC Devo Racing Academy directed by Lex Albrecht had been in the hot seat for some time, with a time of 21:13. She would end up 8th on the stage in the end.

Sarkisov's time held until the last group of riders began to roll in. Sky Schneider of L39ion of Los Angeles came close with 21:16, but it was Emily Newsom racing for ROXO that began the slew of time changes with 20:58 before Team Twenty24 upset their changes to take the stage.

Twenty24's sweep marks the second stage win for the long-time development team managed by Nicola Cramner. Ehrlich would finish with enough time to inch ever so close to the overall GC, hovering behind Marcela Prieto of Patobike who finished 15th with only a 2-second gap in yellow.

"You never expect to win but you hope for it," Ehrlich said. "I love the TT, I've been working on it so much so I've been hyping it up. There's so many positive feelings I have; I was just leaving it out there."

"We came out here a few days ago to recon the course which helped," Quiñones added. "It's been so helpful having Kristin sharing tips and tricks. I'm still new to racing so it fells like every time I work out it's a learning experience."

The battle for the overall continues, between Patobike, Twenty24, and DNA Pro Cycling who remain within striking distance. Prieto was happily surprised after learning she had moved into the GC lead.

"The race was very hard, with the cross winds," Prieto said. "I went with my TT bike which was a good decision. I learned I had secured the jersey shortly after finished, I was so happy. It's going to be difficult to defend, tomorrow we have the crit and then Sunset Loop, but we will do our best to remain in yellow."
Top Photo – Emily Ehrlich on her way to victory on stage 3 at the 2023 Redlands Bicycle Classic.
Photos: Brian Hodes / VeloImages
This page contains affiliate links, where we get a commission if you decide to make a purchase through the links(at no cost to you) and helps support the site. As an Amazon Associate, we earn from qualifying purchases.