A smart solution:
There's little doubt that electric motorcycles are becoming increasingly popular and that revenues will continue to climb (particularly as petrol costs rise). However, dedicated bikers and other fitness aficionados appear to be more cautious about embracing the e-bike trend. For those tempted to "type II fun," an e-bike, with its pedal-powered battery providing a boost, might feel like lying, a way around difficult hills and the stamina necessary for a regular 20-mile ride.
However, the appeal of electric bike is that they are more accessible, allowing individuals of every age and level of fitness to enjoy biking. While more expensive than a regular bike, there is a spate of electric bicycle incentive programs geared at low-income persons, as well as a growing list of e-bike lending libraries and an increasing number of bike sharing systems turning all-electric. Furthermore, because of their simplicity of use, electric bikes are more likely to replace vehicle journeys.
Addmotor Herotan M-65x Cruiser Ebike
Addmotor's Herotan M-65x is an electric moped-style bike designed to offer riders an efficient and eco-friendly mode of transportation. With a rear-mounted 750W motor and a range of 105+ miles on a single charge, this bike is perfect for those who want to travel long distances without worrying about running out of power. It also has a payload capacity of 300 lbs, making it ideal for carrying groceries, equipment, or other heavy items. The alloy frame, full suspension, and fat tires of this adult electric bike make it capable of handling any terrain, while its step-over design and banana seat configuration allow two riders to travel comfortably together.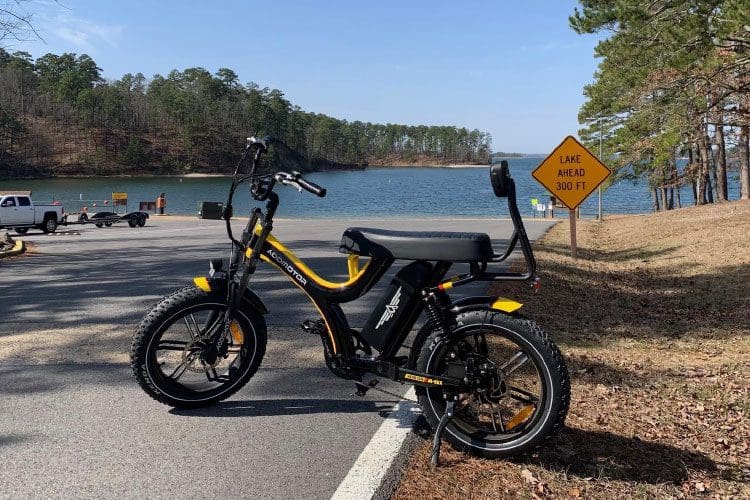 The appeal of e-biking:
Because electric bicycles are less physically taxing on the body's muscles and joints, they not only attract riders who would otherwise be sedentary, but they also allow individuals to ride for longer periods and travel farther. As a result, more people will use e-bikes for commuting or doing errands. Although riders will not engage in the type of strenuous physical activity that steep mountain biking or even hot yoga requires, e-bike riding has been demonstrated to provide the type of moderate physical exercise that most doctors suggest.
The retro style of e-bikes can also appeal to a wide range of people, including those who may not consider themselves "cyclists." Whether you're looking for a practical and efficient mode of transportation, a fun and nostalgic way to explore the outdoors, or a stylish and unique way to make a statement, retro e-bikes like the Herotan M-65x offer something for everyone.
Benefits:
Cycling has become known to be one of the healthiest and most popular forms of exercise. It has become more efficient to ride cycles with the idea of e-bikes, which guarantees a cushioned ride, power to cruise, and safety on many terrains – traffic, rough roads, and hills. Several studies show that cycling lowers the risk of a wide range of ailments, including cardiovascular, metabolic, and mental issues. It enhances the body's aerobic system and delivers exponential strength to the muscles as a result of continual cycling. E-biking is recognised as a thoughtful outdoor sport that promotes a healthy lifestyle.
Exercising is excellent for your health, and e-biking has a lot of benefits for joint flexibility. Riding an e-bike demands the same physical strength as riding a bicycle and requires the entire body to work to get from point A to point B. Cycling's continual movements stimulate the constant movement of legs and arms, which improves core strength. It improves posture while strengthening and mobilising the entire body. If you spend most of your time sitting and working on a laptop, e-biking can be incredibly effective in improving joint mobility and adaptability in the long run.
In addition to their stylish design, retro e-bikes can also help to promote e-biking by providing riders with a low-impact form of exercise that is both enjoyable and easy on the body. With the electric motor providing pedal assistance, riders can choose to exert as much or as little effort as they feel comfortable with, making e-biking a great option for people of all ages and fitness levels.
Sleep is an essential component of our everyday health regimen. Its quality impacts how many activities we can do during the day. While all types of moderate physical activity stimulate sleep, e-biking is one of the most beneficial outdoor activities for improving sleep quality, recharging the brain and recovering the body. E-biking stimulates the production of happy chemicals such as serotonin, dopamine, oxytocin, and endorphins, which helps to decrease stress, anxiety, and depression symptoms. Simply put, e-biking can enhance mood and symptoms of depression while also improving and regulating sleep.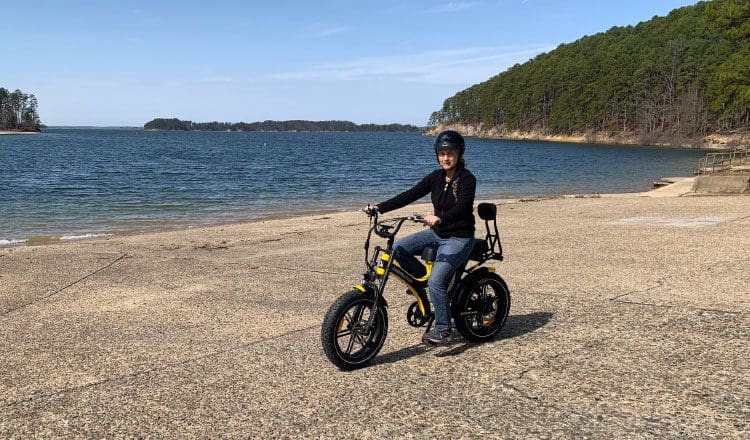 The Herotan M-65x is an electric moped-style bike that offers a convenient and practical mode of transportation, as well as a range of health benefits. By using an e-bike, riders can promote physical fitness and mental well-being, while also reducing their carbon footprint and contributing to a more sustainable and eco-friendly future. Whether for commuting, running errands, or just enjoying a leisurely ride, e-bikes like the Herotan 65x are a great way to stay active, healthy, and connected to the world around us.
Riding an adult electric bike provides you with the assurance that you are using environmentally responsible transportation. It helps you to organise your thoughts and fosters the sensation of contributing to the environment by foregoing traditional cars that pollute the environment. This increases mental ideas and alleviates melancholy, resulting in calmer thinking. E-bike cycling stimulates the mind, leaving little opportunity for the user to ponder extraneous things. This implies that the rider is continually focused on the current moment and the process of training, eliminating mental distractions. This maintains the rider's calm and interrupts the cycle of distracting ideas.
In addition, the long-term cost savings of owning an e-bike can make them a smart investment for many consumers. With lower fuel costs, reduced wear and tear on cars, and fewer maintenance expenses, affordable electric bikes can help riders save money over time while also contributing to a more sustainable and environmentally-friendly way of getting around.
Conclusion:
Overall, the retro style of e-bikes like the Herotan 65x can play an important role in promoting e-biking and encouraging more people to explore the benefits of this eco-friendly and healthy mode of transportation. By providing riders with a stylish and comfortable way to get around, these bikes can help to break down the barriers that prevent some people from trying cycling, while also contributing to a more sustainable and healthy future for all.
E-cycling offers several health advantages, and e-bikes have enabled you to travel farther while improving your fitness. It increases blood circulation and muscular strength while also providing endurance to key joints and sections of the body. It has a lower environmental effect than other means of transportation and might be a great option in today's modern lives.
This page contains affiliate links, where we get a commission if you decide to make a purchase through the links(at no cost to you) and helps support the site. As an Amazon Associate, we earn from qualifying purchases.