Electric Bikes have bought a remarkable transformation In an era where convenience, efficiency, and sustainability have become paramount in our daily lives. With each passing day, innovative solutions are revolutionizing the world of transportation, paving the way for a greener environment and enjoyable rides.
Addmotor's latest marvel, the Foldtan M-160 Folding Electric Bike, is an ultra-modern masterpiece to promote cycling to the next level of comfort. This cutting-edge electric two-wheeler represents a paradigm shift in the way we navigate our bustling cities and serene landscapes.
Let's delve into the remarkable features and futuristic design of the Foldtan M-160, and explore the abilities of this Powerful modern Folding E-Bike.
The Latest Foldtan M-160 Folding Electric Bike:
Addmotor, a renowned pioneer in the field of electric bikes, proudly presents the Foldtan M-160, as an extraordinary addition to their impressive lineup. This folding electric bike is intended to provide you with a leisurely and ecstatic riding experience.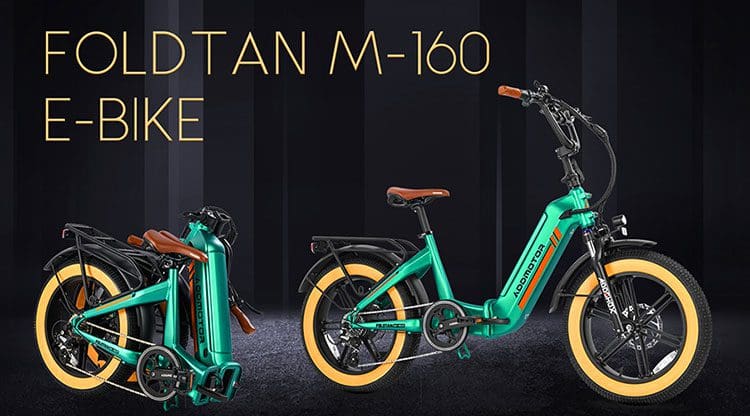 Foldtan M-160 stands as a testament to Addmotos's commitment to pushing the boundaries of Electric Bikes to a new domain. The E-bike can be seen as an upgraded version of the Foldtan M-140, with a new U-shape handlebar and Pedal Assistance sensor.
Durable and Easy-To-Fold Frame:
The foldtan M-160 is structured on an easy-to-fold frame that combines conveniences and style. The step-through frame is crafted from high-quality 6061 alloy aluminum to ensure durability and convenience.
The folding frame makes the M-160 electric bike easy to store in limited space and transport along in your vehicle or public transport. The sleek design adds a touch of grace and modernity to catch the attention of onlookers.
Eye-Catching Color Choices:
Whether you prefer a clean and crisp look or a striking appearance, M-160 insures to showcase your flair of uniqueness. This foldable ebike offers an enticing range of color options to suit your diverse choices including White, Yellow, Dark Green, White, Sky Blue, and Candy Red.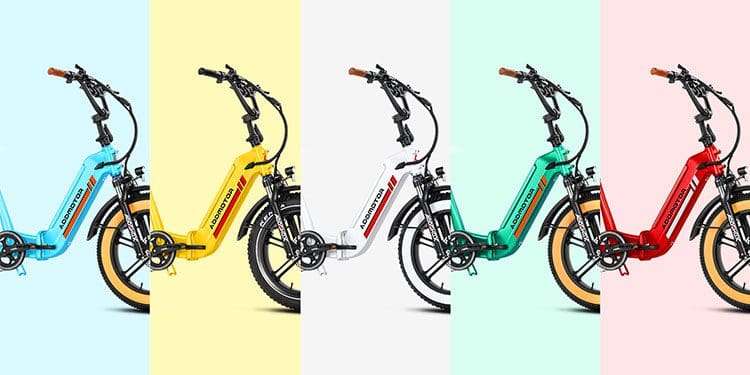 Innovative U Shape Handlebar:
The M-160 e-bicycle features stylish U-shaped handlebars to maximize stability and control across different terrains. This design of the handlebar provides a wider base to make control easier on uneven and rough grounds. The natural placement of hands reduces adjustments and enhances control during turning in sharp curves.
The U-handlebar offers enhanced controls and unmatched comfort during daily rides. Rather you are a daily commuter, a professional rider, or looking for enhanced control and riding comfort, the Addmotor M-160 Folding E-Bike is the best option for you.
Robust Rear Drive Motor:
This e-bike is equipped with a powerful 48V * 750W motor to power the bike over all types of terrains. The motor is perfectly fitted on the rear hub to enhance performance by equally distributing weight. The 750W motor powers the Folding Electric Bike for an effortless and smooth ride on diverse terrains.
The motor has variable speed control and a 1/2 twist power throttle with a cut switch. You will enjoy the perfect blend of power and precision each time you go out on your M-160 Folding E-bike.
Detachable Rear Rack For Maximized Luggage Capacity:
The folding electric bike can be fitted with a detachable rear rack to enhance the loading capacity of the bike. This rack can carry weight up to 25 kg while riding on all types of different terrains.
The rack can be removed from the bike for easy transportation and storage when not in use. The sturdy and durable rack ensures the safety of your luggage during rides.
High Capacity Built-In Battery:
Foldtan M-160 Electric bike is Addmotor's First Build-In Battery Model. This is a step toward significant advancement with the battery integrated inside the frame. The 20AH * 48V battery can provide power to cover a distance of 100 miles without frequent charging.
The built-in battery is a special aid to enhance the overall balance and stability of the folding electric bike. The battery is rated for 1000-15000 charge cycles and takes 8–10 hours to fully charge. Get ready to enjoy a convenient and reliable adventure with this new innovative first build in battery bike of Addmotor.
Fat Tires For Exceptional Gripping:
The folding e-bike has 20″ X 4.0″ fat tires,which are designed to provide extra grip on different surfaces. These Fat tires are wider than traditional bike tires and have a larger surface area that comes into contact with the ground.
The tires are best for riding on snow, mud, rocky hills, and sand as they provide more stability and help to maintain balance on various terrains.
7-Level Pedal Assistance With Torque Sensor:
You can enjoy a better riding experience with the advanced 7-level pedal assistance system. Also, The bike is designed with an intelligent torque sensor system power saving system to enhance the overall performance of the Electric Bike. The torque sensor is very effective and increases the riding range of the bike by 30%.
You can switch between 7 levels of pedal assistance to ride with the perfect balance of effortless pedaling and extended distance coverage over various terrains. The innovative torque sensor system and pedal assistance are useful for smooth and efficient rides.
Highly Effective Hydraulic Disc Brakes:
The M-160 is Designed to deliver exceptional stopping power, with a motor cutoff sensor and a hydraulic mineral oil disc brake system. The 180 mm rotors of these disc brakes are reliable for smooth sops during any emergency or normal situation.
The brakes guarantee reliable control and quick response in emergency stops, descending steep inclines, or normal slow down. The folding electric bike is tailored to ensure your safety and peace of mind while riding on different landscapes.
Adjustable Saddle For Comfortable Sitting Position:
The folding e-bike is fitted with a state-of-the-art adjustable saddle that prioritizes your riding comfort by accommodating your preferred riding position. The premium leather-crafted saddle is waterproof and offers an exceptional level of softness to ensure maximized comfort during long rides.
You can effortlessly adjust the saddle according to your height according to your preference. Whether you prefer an upright sitting stance or a forward-leaned posture, this moveable saddle is the best solution for you. Get rid of riding discomforts and enjoy delightful rides by adopting your best comfortable sitting position on Foldtan M-160.
Pros And Cons Of M-160 Folding Electric Trike:
Pros:
U-shape handlebar for comfortable handling

Hydraulic brakes with a motor cut of sensor

Torque sensor that increases riding range up to 30%

First Built-in battery E-Bike with extended life

Easy foldable and durable frame

Powerful rear hub motor
Cons:
Long charging time

Not recommended for off-road
Conclusion:
The future of commuting is shifting towards sustainable and effective ways of transportation.
Special SoCalCycling.com Discount
Buy Now and Save $ 80 – Use Discount Code: socalcycling
This page contains affiliate links, where we get a commission if you decide to make a purchase through the links(at no cost to you) and helps support the site. As an Amazon Associate, we earn from qualifying purchases.