CicLAvia—Koreatown meets Hollywood, which was scheduled to take place on Sunday, August 20th, has been canceled due to the impending storm approaching Southern California.
CicLAvia explained, While CicLAvia has always gone on rain or shine, the weather on Sunday is just too unpredictable. The forecast indicates that heavy rain will not fall until later in the day on Sunday, but for the safety of everyone coming from near and far, CicLAvia—Koreatown meets Hollywood has been canceled.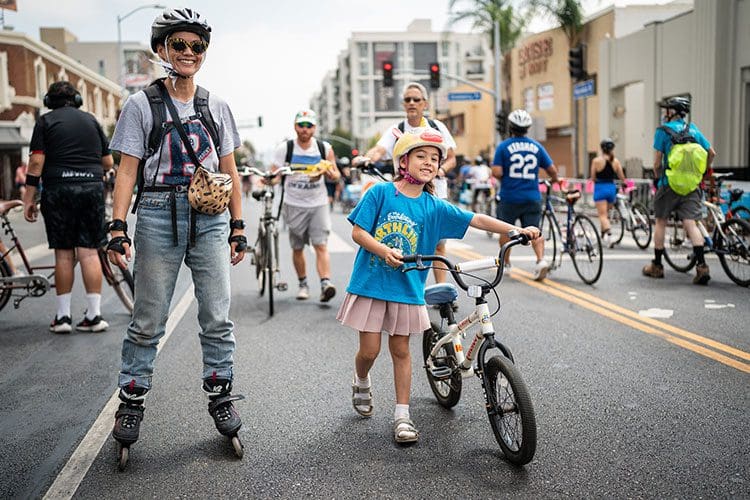 Upcoming 2023 CicLAvia events include September 17: CicLAmini–North Hollywood; October 15: CicLAvia-Heart of LA.
About CicLAvia
Free for all, CicLAvia is a nonprofit organization committed to introducing Angelenos to the vibrant civic and cultural treasures throughout Los Angeles. CicLAvia highlights important issues to all Angelenos – from environmental health and air quality improvement to access to safe and open parks, and physical and mental well-being. CicLAvia has captured the imagination of more than 1.8 million people who have traveled together along more than 275 miles of streets. CicLAvia builds a unifying social fabric, joyously connecting culturally diverse neighborhoods and neighbors to each other through open streets. CicLAvia is not just about cycling, it's also about multiple modes of people-powered transportation. Whether one walks, strolls, skates, jogs, scooters, or bikes, CicLAvia creates so many incredible moments and experiences enjoying our city streets together.
More Information
Visit https://www.ciclavia.org/koreatown_meets_hollywood23 for more detailed information.
Photos courtesy of CicLAvia
This page contains affiliate links, where we get a commission if you decide to make a purchase through the links(at no cost to you) and helps support the site. As an Amazon Associate, we earn from qualifying purchases.