Children kick off the multi-city Strider Cup race series at L.A. Live
The street was closed between L.A. Live and the Staples Center as toddlers ages 19 months to 6 years old raced in the May 4 Los Angeles Strider Cup. Home to the Grammys and Los Angeles Lakers, the downtown L.A. venue matched the grandiosity of the event as over 275 racers from 12 nations competed for the top trophy on Strider Balance Bikes. Race results and images from the event can be found at striderbikes.com/events-los-angeles.
Los Angeles locals lined up alongside competitors from Canada, China, Costa Rica, Guatemala, Hong Kong, Japan, Mongolia, Panama, Taiwan, Thailand, Vietnam, and 12 states across the USA.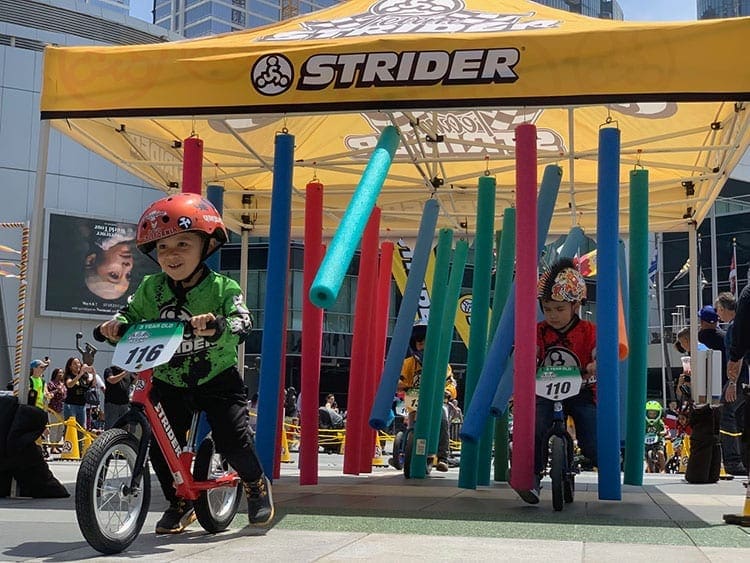 Toddlers tested their skills, dashing through the hanging pool noodles of the "Noodle Monster" and launching over "Mount Scary," two ramps positioned back-to-back with smoke rising from a "lava-filled" crack in the center. The little racers whizzed though the track with a mix of determined stares and elated smiles. Friends, family members, and inquisitive pedestrians — all of whom were full of smiles watching the youngster's race, cheered them on.
The 2019 Strider Cup Series will continue in North America with balance bike races in Boulder, CO on June 15. On July 6, races will be held at The Commons in downtown Minneapolis. From there, the North American race series will take a trip north of the border, hosting a Strider Cup in Surrey, British Columbia on August 17. The 2019 toddler bike racing season culminates at the Strider Cup World Championship in Charlotte, NC on October 5 and 6, 2019.

This page contains affiliate links, where we get a commission if you decide to make a purchase through the links(at no cost to you) and helps support the site. As an Amazon Associate, we earn from qualifying purchases.