The Movistar Team Challenge will begin to identify five men and five women on February 3rd to
join the all-new esports team, the first created by a WorldTour + WWT-licensed organization
Movistar Team presents the Movistar Team Challenge, a brand new talent ID competition that will seek to identify five men and five women to join the new Movistar E-Team. The competition will be held exclusively on the Zwift platform with the competition journey presented by GCN.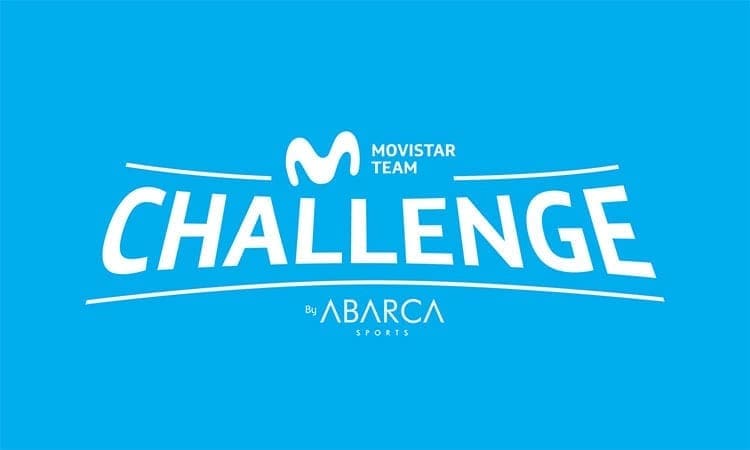 Held over five weeks, the Movistar Team Challenge will start on Wednesday, February 3 with two Movistar Team Challenge Qualifier Races, catering to different timezones. Movistar Team and Zwift have invited 300 of the best-ranked racers on the platform, many of whom are currently racing in Season 2 of the Zwift Racing League, to compete for a spot on the team.
In addition to these invited riders, any rider will have the opportunity to qualify for a chance to fight for a spot on the new Movistar E-Team. Qualifying races will be held on Zwift on Wednesday 3rd February for both men and women, across two different timezones. The top three in each race will then be eligible to take part in the first round of the Movistar Team Challenge on Wednesday 10th Feb. Entrants must be 18 years or older from March 1 2021. Full details of the qualifying races can be found at the Movistar E-Team Guide and the Zwift Community Qualifier inscription link.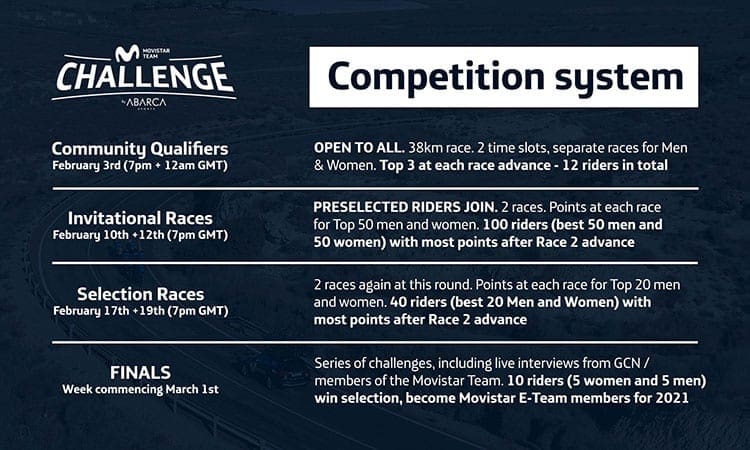 From February 10, the challenge is on! All qualified and invited riders will take to the start of Round 1 for the first time to battle it out for the honor of joining the Movistar E-Team. Races' one and two, held in the same week, will be elimination races. The combined results from each race will see the top 100 riders (50 men, 50 women) progress to Round 2 consisting of 2 more races.
Those who make it through to Round 2 will need to keep the pressure on. Only the top 20 men and top 20 women (40 total) will be selected to progress to the Movistar Team Challenge finals.
The finals we see riders undertake a number of challenge events attended by GCN and Movistar Team. These challenges will not only test the abilities of the riders but with the help of the GCN presenters, will be designed to draw out their personalities. Members of the Movistar Team's performance and marketing / communications staff will choose 10 riders (5 men, 5 women) to join the new Movistar E-Team based on the abilities shown in each of the challenges, assessed by Movistar Team Coaches and ZADA, and also how their personalities align with the values of the Movistar Team. Movistar Team may assign a maximum of 2 out of 10 spots for exceptional reasons in its sole discretion.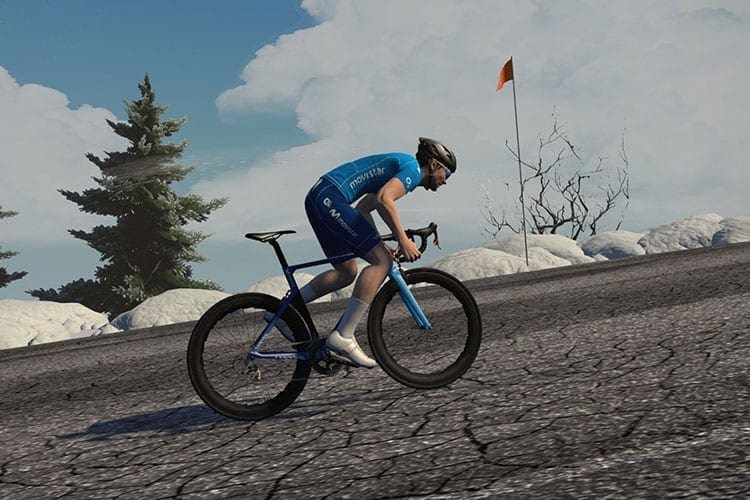 The newly formed Movistar E-Team will have its targets set firmly on racing within the Premier Division of the Zwift Racing League in both male and female categories as they seek to become one of the best cycling esports teams on the planet.
Movistar E-Team members will be provided but not limited to:
Canyon Road Bike (In Zwift and in real life)
Movistar Team kit, equipment (In Zwift and in real life) and official products
Access to team coaches, trainers, physios, nutritionists and team training camps
Opportunity to attend Movistar Team cycling tour trips.
1-year contract that can be renewed upon review.
Juan Pablo Molinero, CMO Movistar Team says, "Movistar E-Team is a step further in the corporate strategy of Abarca Sports, managers of the Movistar Team. Virtual cycling is a great opportunity and the ultimate content creator in cycling. Movistar Team is excited to use this platform to offer new possibilities to their fans, supporters and partners. The Movistar E-Team will enlarge our audience and "contact points" with our fans. We cannot wait to begin this adventure. Being the first World Tour Team to have its own E-Team is an amazing opportunity. Thanks to Zwift and GCN, who are partnering with us, it is going to change the cycling industry."
GUIDE | Movistar Team Challenge and the Blues' new esports team
SIGN UP | MT Challenge Community Qualifiers (Wednesday 3 Feb)
This page contains affiliate links, where we get a commission if you decide to make a purchase through the links(at no cost to you) and helps support the site. As an Amazon Associate, we earn from qualifying purchases.