Part of the Gran Fondo National Series
Tour de Big Bear, voted Southern California's Favorite Ride, has raised the bar again attracting cycling's best talent with its Tour de Big Bear HC Gran Fondo event.  Road cycling's best riders from all across the country will again participate in the HC Gran Fondo . . . hors categorie or beyond category ride.  This is the ultimate high altitude experience with rider amenities found only in a pro peloton!
"Tour de Big Bear HC Gran Fondo is an event to reach the premier level of cyclist, looking for the pro peloton experience" stated Craig Smith, president of the Big Bear Cycling Association and event director for Tour de Big Bear.  "We have offered road events from the recreational Tour de Big Bear to National Race Calendar and International Pro UCI events.  Tour de Big Bear HC furthers our goals with a pro peloton style event, held at altitude for the elite athlete.  Smith added "we hope that in future years to continue to add more racing options."
Named "one of the toughest rides in the country" by VeloNews,  the HC Gran Fondo event features 125 grueling miles and nearly 12,000 feet of climbing.  Participants ride through some of the best scenery California offers, all at elevation varying between 6000 and 8500 feet above sea level!  The event is open to both competitive and non-competitive riders;   competitive elements include King and Queen of the Mountain and an HC Points Competition for cash and prizes! Non-competitive riders will enjoy the same awesome amenities and the ultimate riding challenge!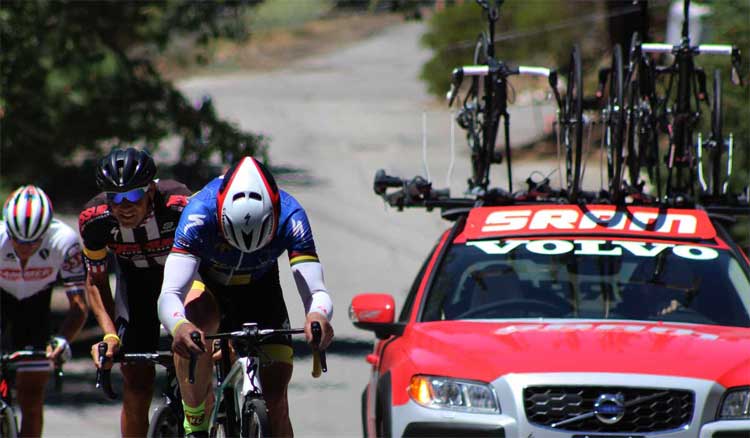 The event is limited to 300 riders and all participating athletes will receive "pro treatment" and special amenities that support and recognize their achievement including:
HC VIP Check-in
Pre-ride breakfast in private HC Lounge
Call-ups and separate HC start class
Moto/CHP Escort, with dedicated SAG Vehicles
HC Mobile Aid Stations and water bottle exchange
Commemorative Finishers Jersey, ride socks and finishers medal
Complimentary Beer and HC Beer Glass at finish
Post Ride "Taste of Tour de Big Bear" Aid Station menu served in the HC Lounge
HC Gran Fondo is proud to announce its association with and its membership in the 2018 Gran Fondo National Series ('GFNS').
Gran Fondo rider's in twelve cities across the country, including Big Bear Lake, California, compete for points leading to a National Championship later this summer.
"I rode the Tour de Big Bear HC Fondo last year, and I immediately fell in love with the event and the town of Big Bear Lake", said Alain Lambert, Executive Chairman for Haute Route in North America. Haute Route is the world's premier amateur cycling organization with eleven multi-day events in Europe and the USA. "The inclusion of the Tour de Big Bear HC Fondo in the GFNS, with whom has a strong and close association, demonstrates the quality of HC Fondo and the true challenge it represents for amateur cyclists.
Big Bear Lake, known as the "Cycling Capital of Southern California," and named "#1 Weekend Getaway City" in the United States by Expedia Travel has played host city to many world-class cycling events including four stages of the Amgen Tour of California and Redlands Bicycle Classic and Tour de Big Bear, now in its ninth year, in addition to many world-class mountain bike events.    
For more information and registration for Tour de Big Bear HC, go to www.TourdeBigBearHC.com
About Haute Route
Haute Route cycling offers amateur cycling experiences with a professional level of support on and off the bike. Their timed and ranked events are run over seven or three days across the most iconic cols.  100% of your entry fee to the Tour de Big Bear Gran Fondo HC can be applied to any Haute Route event entry fee.
Hundreds of riders every year from all over the world take part in the Haute Route events, which include legendary cols like  Ventoux, Alpe d'Huez, Galibier, Tourmalet, Stelvio and Independence Pass.  www.hauteroute.org
About Gran Fondo National Series
Established in 2012, the Gran Fondo National Series (GFNS) is the country's only national cycling race/ride circuit, comprised of twelve European-style ride/races staged in the United States. Every GFNS event offers courses covering 30, 60 and 100-mile journeys through some of the most beautiful and challenging terrain in endurance sports. Timed sections allow riders to compete in specific segments of the course, while casual cyclists can ride at their own pace. Participants can ride as individuals or on teams. GFNS awards special prizes to the top riders in every age and gender category. www.granfondonationalseries.com
This page contains affiliate links, where we get a commission if you decide to make a purchase through the links(at no cost to you) and helps support the site. As an Amazon Associate, we earn from qualifying purchases.