Swansea University researchers studied Team Novo Nordisk athletes
during a Spanish training camp to find out more about diabetes and endurance sport
Swansea University researchers have been monitoring the grueling demands endured by a unique group of elite cyclists in their drive to find out more about diabetes. Team Novo Nordisk is the world's only professional cycling team made up of riders with type 1 diabetes. The physical challenges the athletes face were studied by sports scientists from the University during a 10-day Spanish training camp. The researchers now plan to use their findings to help other people with diabetes who want to be more physically active.
Led by Dr Richard Bracken, the research team included Dr. Othmar Moser, Max Eckstein and Olivia McCarthy. The quartet traveled to Altea on the Costa Blanca to monitor the cyclists and learn more about how their bodies coped with spending up to seven hours a day in the saddle.
"Team Novo Nordisk compete all over the world and promote a can-do attitude to having type 1 diabetes. We wanted to find out more about the bespoke physiology of these elite athletes to better understand their responses to extreme exercise and the strategies they use – things like food intake, sleep and medication adjustments."
While at the training camp, Dr Bracken and his colleagues meticulously collected nutritional, glucose and physiological data during the team's intensive training and exhaustive cycle testing protocols.
Team Novo Nordisk is made up of riders from all over the world, united not only by their diabetes, but also by their cycling prowess. They compete against other professional teams at the sport's highest level. Cycling is recognized as one of the most physically demanding professional sports, but the team members are eager to demonstrate that diabetes can be managed successfully as part of a healthy active lifestyle.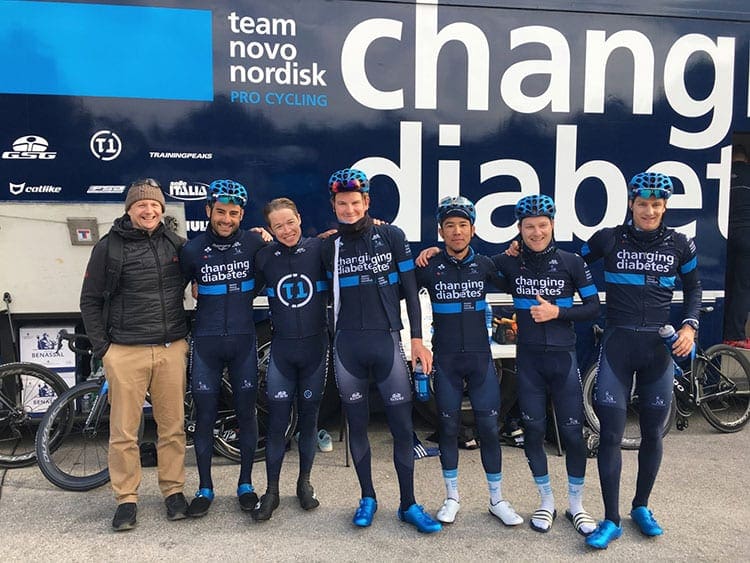 Team Novo Nordisk CEO and co-founder Phil Southerland (left) said: "I'm super grateful to Richard Bracken for bringing his amazing team to Spain and we're proud to partner with Swansea University as we race to inspire, educate and empower everyone affected by diabetes. For years, we've had the desire to demonstrate how our athletes race at this level, day-after-day, with diabetes. We want the information to be shared with every healthcare professional and anyone in the future to know how people with diabetes can exercise at the highest level. We want to show how they consistently do it safely and successfully."
Among the riders who took part in the study was Stephen Clancy who is in his seventh year as a professional.
"Over the past few years, we have developed our own techniques, but the Swansea research team will be able to help us standardize our dietary approach to training and racing with diabetes. This will be beneficial not only to us but to everyone exercising with diabetes."
His teammate Sam Brand added: "Having the Swansea research team at training camp working to learn more about the potential connection between diabetes and fueling during exercise has been invaluable for us. We are looking forward to seeing what comes from the study."
Swansea University is at the forefront investigation into the condition and is home of the renowned Diabetes Research Unit Cymru.
Dr. Bracken, associate professor in sports science, is an expert in exercise and diabetes. He said this latest research into the demands facing elite, professional cycling with type 1 diabetes would now play an important role in building a better understanding of the condition and is set to be published in leading diabetes science journals.
"We want to uncover clues which might give the healthcare community more confidence when it comes to encouraging the wider type 1 diabetes community to do physical activity."
This page contains affiliate links, where we get a commission if you decide to make a purchase through the links(at no cost to you) and helps support the site. As an Amazon Associate, we earn from qualifying purchases.