The Tour de France is the pinnacle of the cycling world. Besides trying to win a Gold medal in the Olympics, this is the race that everyone spends their life training for, and with good reason. In 2021, the total prize pool managed to reach €2,228,450 which would be split amongst the numerous riders and teams, with the overall winner netting around €500,000 of that for themselves. But that's not the only thing the winners get.
One of the other key prizes, which can change throughout the competition, are the various colored jerseys. There are four in total, with the Yellow jersey being the most sought after, signaling the rider who had the quickest finish time across all stages of the Tour de France. The other jerseys which are Green, Red Polka-dot and White, cover areas such as leader based on points instead of time. These can change riders throughout the race depending on who performs best in each stage of the competition.
But who are the best riders that the Tour de France have ever seen? Well, we're going to get into that. But we will be excluding the legendary rider Lance Armstrong, despite his record seven titles, due to the fact he had many of his titles stripped due to doping. Instead, we'll focus on the top 10 riders who managed to perform to the highest levels without the need to boost their performances with steroids.
10 – Alberto Contador
Dominating in the late noughties, the Spaniard Contador racked up three impressive Tour de France victories in 2007, 2009 and 2010. However, that last win was struck from his record when he was found to have tested positive for doping, in a race filled with controversy when second-placed Russian cyclist Denis Menchov also had his ranking stripped after also testing positive.
9 – Tadej Pogačar
Currently racing for UAE Team Emirates, Pogačar is a two-time Tour de France winner and is the current reigning champion. But whilst some may say the Slovenian deserves to be higher up our rankings, we've got him in at number nine. He's still young at the tender young age of 23 and has plenty of time to add more titles to his name, which sports betting predictions suggest he will do in the coming years. Especially since he became the youngest ever cyclist to win a UCI World Tour race in California at just 20 years old.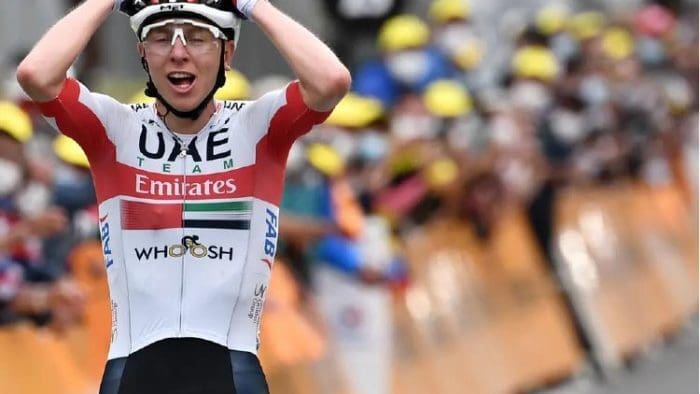 8 – Fausto Coppi
Another cyclist who also had two Tour de France titles to his name was Italian, Fausto Coppi, conquering the race in both 1949 and in 1952. Sadly, eight years after his last win, he passed away in 1960 at the young age of 40 after he contracted malaria from a mosquito bite when visiting Burkina Faso. But he will forever be remembered as one of the best cyclists to ever compete on the global stage.
7 – Chris Froome
The Brit, who was born in Kenya, took the cycling world by storm in the early to mid-2010s, with two Tour de France wins in both 2013 and 2015. He has many other titles to his name as well, racking up an impressive seven Grand Tour wins, and is still racing at the tender age of 36 years old as part of team Israel Start-Up Nation.
6 – Greg LeMond
LeMond was a three-time Tour de France winner, dominating the race in the late eighties and into the nineties. His three wins came in 1986, 1989 and 1990. Much like Coppi, LeMond also had a tragic moment in his life when he was out hunting with his brother-in-law, who accidentally shot LeMond in the back with a shotgun. Fortunately, he made a full recovery and is still going strong at the age of 60.
5 – Philippe Thys
The Belgian Philippe Thys could've been much higher in these rankings if he had won more Tour de France titles, but sadly as one of the oldest winners of the race, one thing stopped him racking up more wins. He had back-to-back titles in 1913 and 1914 before World War 1 interrupted his racing career. However, once the war was over, he was soon back to winning ways, picking up a third title in 1920.
4 – Jacques Anquetil
We couldn't have a top ten riders of the Tour de France without a Frenchman in there, and with the first of two, we have Jacques Anquetil. He was the first rider to win five titles in the famous race, with his initial win coming in 1957, before four consecutive victories from 1961 to 1964. And he held the record of most titles won, only ever being equal, until the convicted Lance Armstrong surpassed him, picking up seven Yellow jerseys in his long and now tarred career.
3 – Miguel Indurain
The Spaniard whilst unable to beat Anquetil's record of five Tour de France victories, only matching his five victories, did manage to better him one way. He became the first cyclist to win five consecutive Tour de France titles, picking up every single one from 1991-1995. Again this was only beaten by Lance Armstrong, who won his seven titles from 1999-2005, but with him being stripped of all his titles, Indurain still holds that record.
2 – Bernard Hinault
The second Frenchman to make our list is Bernard Hinault, who is another five time winner, picking up his victories in 1978, 1979, 1981, 1982 and 1985. He had a total of 147 professional victories across his career, including the five just mentioned. Since then, he's gone on to be an established author, releasing several books including the popular Memories of the Peloton.
1 – Eddie Merckx
And finally, in our number one spot of our top 10 riders, we have the Belgian Eddie Merckx. Another five-time winner, Merckx claimed victories from 1969-1972 and again in 1974. Nicknamed The Cannibal and The Monster due to the fact he was described as a man who wouldn't let anyone else win, he is without a doubt, the most accomplished cyclist of all time. Bagging up an impressive 525 victories, no one has ever come close to competing with his haul of titles, and it's almost surprising he didn't end up winning more Tour de France titles.
This page contains affiliate links, where we get a commission if you decide to make a purchase through the links(at no cost to you) and helps support the site. As an Amazon Associate, we earn from qualifying purchases.