Team TIBCO-Silicon Valley Bank is proud to announce Kendall Ryan, and Lauren Stephens have been selected for the Olympic Games long team.
The 2021 Olympics will be in Tokyo after a year postponement due to COVID-19.
Stephens' consistency, time trial strength, and race experience have made her no stranger to the podium. The 33-year-old has represented the US at the UCI World Championships three times, won the 2017 Winston Salem Classic, and finished in the top 10 at La Course the same year.
"I work hard every day to be my best, and being named to the Olympic long team is a product of that hard work," said Stephens, who has been named to the road long team. "I'm looking forward to the time and energy I will put into the next year towards being named to the final team."
Ryan, a multi-time national champion on the track and Amgen Tour of California stage winner, has a focus on the Olympic track team, which has been her specific goal for several years.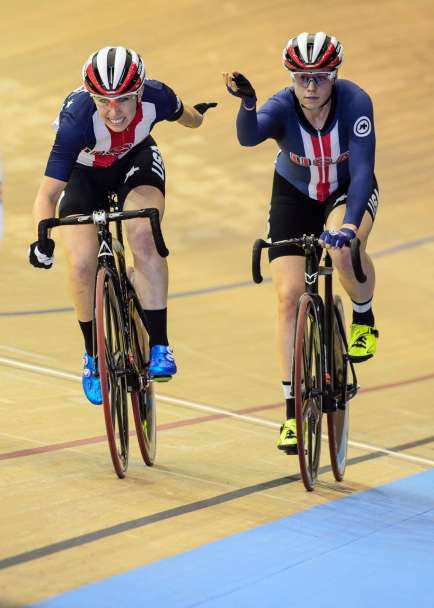 "To be one step closer to my Olympic dreams is an encouraging feeling," Ryan said. "I am truly grateful for the continued support of Linda Jackson, teammates, and sponsors of Team TIBCO-Silicon Valley Bank, my coach Joanne Kiesanowski, the coaches and staff of USA Cycling, and everyone in between that have cheered me along in this process. With the Olympics being pushed back another year due to COVID-19, it's a double-edged sword; the process will have to be repeated, but I know I'm prepared better mentally for it. The athletes on the long team have been reminded that being a part of this process is something to remember and enjoy, and I'm ready to soak it all in again. All of this time spent at home has been a huge recharge to get back to training and racing hard with my teammates. I can't wait to get back on track."
Since its origin more than 15 years ago, Team TIBCO-Silicon Valley Bank's mission has been to develop promising female cyclists into top international competitors. Team owner Linda Jackson is an integral part of that process and has seen the two riders' progress unfold since Ryan joined the team in 2011, and Stephens in 2013.
"I am just thrilled that both Kendall and Lauren have been named to their respective Olympic long teams for track and road," Jackson said. "They both been working so hard to achieve their goals of becoming Olympians. We wish them the best of success in achieving their goals, and we thank TIBCO Software and Silicon Valley Bank for their continued support of women's sports."
This page contains affiliate links, where we get a commission if you decide to make a purchase through the links(at no cost to you) and helps support the site. As an Amazon Associate, we earn from qualifying purchases.