GoCyclingNow USA's mission is to enrich the lives of middle & high school students by teaching courses on bicycle safety, maintenance & assembly; developing problem solving, teamwork & leadership skills; and promoting physical & emotional well-being.
Teaching middle and high school kids about the joy and freedom of cycling from two unique perspectives is our game and Mission. First, teaching Safety with course material approved nationally by different recognized organizations. Second, introducing all students to bicycle maintenance, and training others to be Train-the-Trainers who'll benefit from building a bike from the frame up. Our goal is to have high school graduates with applicable hands-on skills to get a job. Students graduating from our advanced program are building their own bike they can take to college or trade school…and be proud because they built it themselves! They may very well be your future 'wrenches'!
Invitation to Legends of Cycling & Ultras GoCyclingNow USA Fundraising Dinner and Q and A
You should come if… you are a cyclist, triathlete, club rider, in town for Race Across America or Race Across the West, a School or City official concerned about bike safety, or, interested in Training Youth for the Trades.
Many of the greats of RAAM and Ultras will be there including Denise 'Fastest Human' Mueller as Moderator.
Distinguished Athletes of the the Panel include:
Pete Penseyres
John Howard
Richard Duquette, Esq.
Nancy Pearlman
Date: June 12, 2022, at 5:00 pm – Silent Auction begins at 6:00 pm
Tickets: $100 advanced purchase online by June 8
Location: Agua Hediona Lagoon Discovery Center – 1580 Cannon Rd, Carlsbad, CA 92008
Tickets:
Purchase Tickets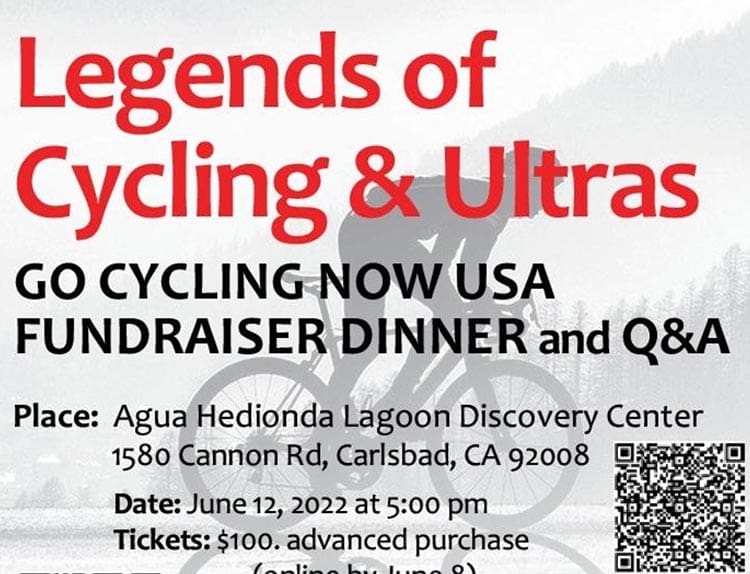 This page contains affiliate links, where we get a commission if you decide to make a purchase through the links(at no cost to you) and helps support the site. As an Amazon Associate, we earn from qualifying purchases.