SCNCA Cyclocross Championships
The SoCalCross CACX Cross-itas Championships Weekend – Ventura is set to take place this weekend on January 21-22 after being postponed due to the recent rain storms.
SoCalCross CACX cyclocross is being held on Saturday, January 21 and is also the 2022-23 SCNCA CX District Championships for Juniors, Masters, and Elite racers.
Events
Earn points, medals and cool prizes from our sponsors. Thanks to Trek Bikes of Ventura for Weekend Tech Support!
SUNDAY – 1/22
CACX Art of Cross SoCalCross Finals!
Awards
CACX Weekend races will award SoCalCross Series category podium medals to the top 5 in each race and double Series Points on Sunday to determine Category Art of Cross Series Championship jersey, awards and CACX Weekend prizes!
SoCalCross Crossitas Cyclocross Course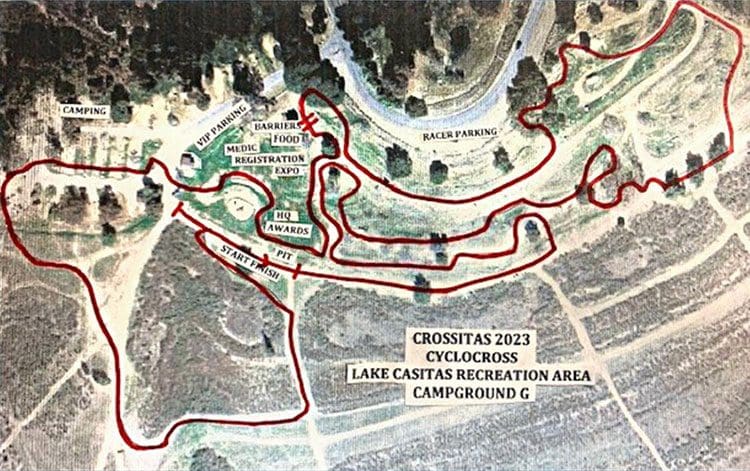 Register Online:
**A USA Cycling annual license is required to be eligible for 2022-23 So Cal/Nevada District Championship medals/jersey.
USA Cycling Memberships are available online at memberships.usacycling.org *Use code "SoCalCX" to save $20 off annual race membership!
One-Day license available at race day registration Novice $5 for CX 5, Experienced CX 1-4 $25
2022-23 SoCalCross races are permitted by USA Cycling. Qualifying races count toward category upgrades and rankings.
SoCalCross Cyclocross Video
For more information visit SoCalCross.org.
Visit SoCalCycling.com's Event Calendars for upcoming Road Racing Events, Mountain Bike, Cyclo-Cross & Gravel Events and Fun Rides, Gran Fondos & Tours throughout the year to find great cycling events to participate in or spectate.
This page contains affiliate links, where we get a commission if you decide to make a purchase through the links(at no cost to you) and helps support the site. As an Amazon Associate, we earn from qualifying purchases.