SoCalCross Prestige Series has one more race to go to finish out the 2021-22 Southern California Cyclocross Season. While SoCalCross started later than usual this season and finished later than normal, what else can be expected?
Join the fun Sunday, February 6th at Pierce College in Woodland Hills to participate, race, cheer, ride, run on the famed cross country running track and field for the return for this long-time SoCal cyclocross classic and dynamic course full of features for all to enjoy.
Race Director, Dorothy Wong recounts the venue's history as a true Southern California Classic. The first Santa Cross race was in 2002 started by local cyclist, entrepreneur, Gary Hanson Founder of Scaryfast Rocket Parts and cycling team that brought the community together and realized this space to be a good venue for the sport.
Over the years, many enjoyed the love-hate relationship with the meandering course and terrain this course offers. Many junior racers now pros such as the Ryan family (Alexis, Kendall, Morgan and Dad Kevin) brought the kids to race each week and in 2007 Lance Armstrong and Tony Cruz raced to improve handling skills and tune up winter training for World Tour racing.
For over a decade this course has challenged many a racer all ages and abilities and has been our series final over the years. The weather has played a part including one of the muddiest races in SoCalCross history. This weekend we expect Santa Ana Winter warm, breezy, dry and lots of sunshine.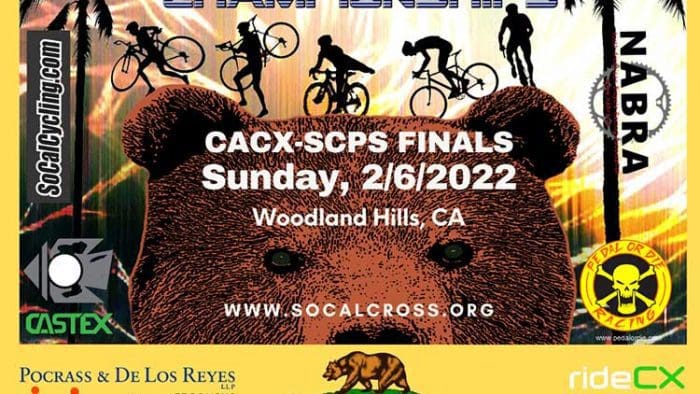 Join SoCalCross with one race to go! Sunday FUN Day all day!
Celebrate cyclocross as we are combining the weekend into one race day's worth of FUN and double points will determine the 2021-22 SoCalCross Prestige Series Champions! Combining the weekend we will also award each category winner will be the 2021-22 CACX-NABRA Champion presented by Voler Apparel!
The Prestige Series Points Podium Top 5 will receive custom Art of Cross Prints and Medals and Champions will be awarded the SoCalCross Prestige Series Champion Jersey!
REGISTER AT:
WEBSITE:
Latest DETAILS:
@SoCalCross
This page contains affiliate links, where we get a commission if you decide to make a purchase through the links(at no cost to you) and helps support the site. As an Amazon Associate, we earn from qualifying purchases.